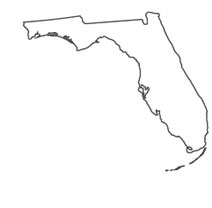 The Dietetics and Nutrition Practice Council is responsible for licensing, monitoring, disciplining, and educating nutritionists in Florida. The Council also licenses and oversees the safe practice of dieticians and nutrition counselors as to ensure their competency.
Licensed nutritionists in Florida are licensed to provide:
Nutrition assessment: Involves evaluating the nutrition needs of individuals or groups; using data to determine their nutrient needs; and making appropriate nutrition recommendations.
Nutrition counseling:

Involves advising and assisting individuals or groups on appropriate nutrition intake through the integration of information gleaned from the nutrition assessment
Education and Experience Requirements for Nutritionists in Florida
Individuals who want to learn how to become a nutritionist in Florida must ensure they meet minimum eligibility requirements, which include possessing a bachelor's degree (minimally) with a major course of study in: dietetics, food management, human nutrition, or food and nutrition.
Candidates must also, upon the successful completion of a bachelor's degree program from an accredited college or university, complete a course of supervised practice in nutrition that totals at least 900 hours. The pre-professional experience may be satisfied through the completion of an internship approved by the Accreditation Council for Education in Nutrition and Dietetics (ACEND).
The 900 hours of pre-professional experience must include at least 200 hours of supervised practice in clinical nutrition, 200 hours of supervised practice in community nutrition, and 200 hours of supervised practice in food service systems management.
According to Florida Statutes, candidates must also complete a two-hour course related to the prevention of medical errors before they can become licensed to practice as a nutritionist in Florida.
<!- mfunc feat_school ->
The following bachelors and Master's programs offer career-focused instruction delivered by trained nutritionists with experience in the field. Find out more what each individual course of study offers through the locations below.
Sponsored School(s)
Featured Nutritionist Programs
<!- /mfunc feat_school ->
Examination Requirements for Nutritionists in Florida
Candidates for nutritionist jobs in Florida must take and pass the Registration Examination for Dieticians through the Commission on Dietetic Registration (CDR).
To qualify to take the dietician examination, candidates must first have their application approved by the Dietetics and Nutrition practice Council. Upon approval of the application for examination, the CDR will contact the applicant with available examination dates and study materials. The examination fee of $125 must be paid directly to ACT (the Commission on Dietetics Registration's testing agency).
Once the department receives the passing score from CDR, candidates can expect to receive their nutritionist license within two weeks.
Salary Figures for Nutritionists in Florida
According to the Bureau of Labor Statistics, as of May 2021, nutritionists in Florida earned an average salary of $62,320.
Florida ranks fourth in the nation among states with the highest employment level of nutritionists, behind only California, New York, and Texas.*
Nutritionist License in Florida: The Application and Renewal Process
Individuals who want to become a nutritionist in Florida must:
Complete the Application for Licensure by Examination
Pay the application fee of $100 and the initial license fee of $175.00 (made payable to the Department of Health)
Provide the Council with official college/university transcripts (mailed directly from the university to the Council office)
The completed application and all supporting documentation must be submitted in the same envelope to:
Department of Health/Dietetics and Nutrition
P.O. Box 6330
Tallahassee, FL 32314
License Renewals for Nutritionists
Online license renewals for nutritionists in Florida involve completing the online renewal process and paying the renewal fee of $105. Nutritionists in Florida must complete at least 30 continuing education hours during the biennial renewal period, 20 of which may be in home study hours. For the first-time renewal period, nutritionists must complete at least 2 hours in medical error training and 3 hours in HIV/AIDS training.
Nutrition Associations and Organizations in Florida
From networking and employment opportunities to a near-continuous source of professional development events, associations and organizations for nutritionists in Florida are commonplace for nutritionists interested in advancing their careers and stating abreast of the latest news in nutrition:
---
Another Option for Nutrition Careers in Florida is Becoming a Health Coach
The Florida Department of Health recently announced that unhealthy weight is the top public health threat in the state. Examining the statistics, the DOH discovered the following:
64% of Florida's population is overweight or obese
If the current trend continues, 60% will be obese by 2030
Obesity related illnesses are expected to cost Floridians $34 billion dollars over the next 20 years.
With behavior playing a huge role in this obesity problem, the state is aggressively working to implement a five-point program to combat this threat.
What does this have to do with you?
As a health coach your role includes very specific, one-on-one duties including:
Teaching individuals about health and wellness
Coaching individuals on how to turn knowledge into daily practice
Encouraging those who feel tempted to give up
Making referrals for those who need the additional care of a specialist
You play an integral part in making health happen in real life for everyday people who want to see change.
As the Department of Health is putting considerable energy into both promoting awareness and implementing programs to address the problem of obesity, all new opportunities are opening up for health coaches in Florida.
How to Become a Health Coach in Florida: Degrees and Professional Certification
Health coaching is an exciting field that is still coming into its own, with new ideas and concepts being developed as the number of practitioners increases.
As a result of recent growth brought on thanks to provisions in the Affordable Care Act, there are many interpretations of just what it means to be a health coach. Without any one state or national licensing body to govern this field, the variety of job duties and rolls that fall under the title "Health Coach" is vast.
This dynamic offers both challenges and opportunities: on the one hand, you get to map out your own path to getting your career started; on the other hand, though, planning that path can take a bit more work and research than expected.
Florida does have restrictions on just who can give nutrition-based counseling and guidance. In general, to give such counseling you must be a licensed dietitian or nutritionist. However, there is a fairly new exception to this rule for some professionals. To see if you are covered under this exception, please check out the Exemptions and Exceptions section of the Florida Statutes.
Certificate, Associate, Bachelor's and Master's Degree Options in Florida
There are many undergraduate and certificate offerings in Florida that can get you started on the right road. The following are just some of the undergraduate majors worth considering:
Nutritional Sciences
Natural Nutrition
Nursing
Applied Physiology and Kinesiology
Athletic Training
Health Education and Behaviors
Public Health
Nutrition Consultant
If you've already completed your undergraduate schooling and want to move on to the next level, Florida's many schools offer a wide variety of programs. Examples of available graduate majors and post-bachelor's certificate programs include:
Public Health
Naturopathic Medicine
Exercise and Health Promotion
Dietetics and Nutrition
Non-Degree Health Coach Certification Programs
Some employers have less stringent educational expectations, looking for professional certification but not necessarily a bachelor's or master's degree.
In fact, even if you do have a health and fitness related degree, certification can be an important step in building your portfolio. Research from various job aggregation sites shows that, nationwide, certified health coaches bring in incomes of up to 40% more on average than non-certified coaches.
In response to this new demand, there has been a huge increase in online certification programs over the past few years. When choosing a certification program, it's important to research how well the program is respected, who they are connected to, and what sort of accreditation they have.
Currently, the National Commission for Certifying Agencies (one of the top accrediting organizations in the US) offers accreditation to only one Health Coach certification program: the American Council on Exercise (ACE).
ACE offers three tracks for those interested in this field:
Health Coaching for Fitness Professionals
Health Coaching for Health Care Providers
Health Coaching for Workplace Wellness
If you're interested in exploring any of these options, check out ACE's Certification Candidate Handbook.
There is a newer but academically solid and well-connected accrediting agency that focuses specifically on accreditation for health coach certification organizations: The National Consortium for Credentialing Health & Wellness Coaches. Exploring organizations accredited by the NCCHWC is also a good option when looking for creditable organizations.
Other Tracks to Becoming a Health Coach in Florida
Not all roads to health coaching require these educational and certification measures. Within the YMCA system there are positions for both those with little education but a willingness to learn as well as those who have heftier university backgrounds.
Some coaches rely on their own personal experience and study to set up their independent coaching practices. If this is your plan, you may want to think through the following questions:
Will I be able to do the coaching I prefer in light of Florida Nutrition Regulations?
If I were looking for a health coach, would I feel confident in someone who has this level of understanding and ability?
Asking these questions can help you determine whether or not you will need additional training to realize your goals.
Career Paths and Job Opportunities Available to Health Coaches in Florida
Recently the Orlando Sentinel reported that the health-coaching field is seeing a big boost in visibility and acceptance thanks to an Obamacare provision. This provision requires private insurance companies to cover obesity-related counseling, often lead by certified health coaches.
In response to Obamacare, insurance companies, state agencies, wellness program developers, and private corporations now often hire health coaches to help implement health plans for their members and employees.
Some companies in Florida known to hire or partner with health coaches include:
Blue Cross Blue Shield of Florida
YMCA
Cigna
FitLife Foods
CBIZ and Mayer Hoffman McCann P.C.
NantHealth
Crunch Fitness
Humana
Ultimate Software
CareAlliance
Gehring Group
So what does it actually look like to work as a staff wellness coach? This position comes with a wide variety of job descriptions, so it may take a little digging to find the spot that fits you best.
Below are examples from various Florida job aggregation sites. These samples are not intended to be actual job offers. The goal is simply to give you an idea of the types of jobs available in this field.
Corporate Wellness Coach, CareAlliance, Miami – Help members improve their health and meet wellness goals through one-on-one coaching plans, education, motivation and support. You will interact with members both via phone and during onsite visits, analyzing their health data to identify risk levels and put together unique plans for each individual. You will also develop and teach wellness seminars onsite. You will need to be organized and able to document coaching and goals as well as outcomes.
Requirements:
2 years experience in a health science, coaching, nutrition, exercise science or a related field
This position requires fluency in both Spanish and English
Diabetes Prevention Program Lifestyle Coach, YMCA, Jacksonville – In this position you will provide support and guidance to those in our Diabetes Prevention Program. In addition to individual counseling and discussion you will offer curriculum to class participants and create a motivating, non-competitive environment that encourages participants to follow through on what they have learned. You will encourage weekly goal setting and follow up with participants when they missed a class, providing in-person make-up sessions as needed.
Requirements:
Knowledge of basic health, nutrition, and fitness as well as an understanding of behavior change
Must meet certain physical health requirements
Detail oriented and flexible
Strong communication and relationship skills
Must be supportive of the YMCA mission
Onsite Health Coach (RD), Cigna, Orange County – The health coach will help to identify customer health education needs, research relevant topics to better educate and assist customers, provide one-on-one coaching to help customers change unhealthy behaviors, help customers set up health improvement plans, document interactions and interventions, and design and implement site events.
Requirements:
Registered dietitian
Master's degree preferred
Working knowledge of wellness programming
3 years experience in related field
Head Wellness Coach, Fitlife Foods, Winter Park – In this role you will lead a team of three or more wellness coaches. Your job will include guiding and training these coaches to best serve the Fitlife team and customers. To do this, you will need to stay up to date on the latest health, wellness, fitness and nutrition information. In addition to training and evaluating coaches you will also educate guests on our product, community and culture and deal with any client inquiries.
Requirements:
College or graduate level degree in exercise science, kinesiology, fitness, or related fields
Training in nutrition, weight management, stress reduction, and chronic conditions
This position requires an outgoing personality with strong written and verbal skills
Independent Health Coaches
If you prefer the freedom and flexibility of working as your own boss you may want to consider becoming an independent health coach. In this role, you will likely work mostly evenings and weekends, unless you find opportunities to partner during work hours to help local businesses improve employee wellness.
Independent health coaches must open their practice as a small business, which means that in addition to coaching you will need to take care of your invoicing, marketing, and taxes. To start you business you will need to:
For more information on the details for opening your practice, check out the Starting a Business in Florida page of the Department of State website.
Resources for Health Coaches in Florida
Florida Health Department and Wellness Initiatives
Professional Organizations and Certifying Bodies
Because health coaching is still a new field, there are very few related professional organizations and associations. However, depending on the track you choose, you may find these organizations applicable to you:
Additional Helpful Links
*2021 US Bureau of Labor Statistics salary figures and job growth projections for dietitians and nutritionists reflect state data not school-specific information. Conditions in your area may vary. Data accessed April 2022.