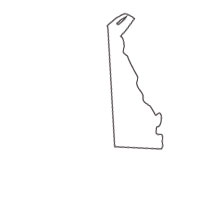 Follow the step by step process or choose what situation that best describes you:
Nutrition Careers in Delaware
According to the Commission on Dietetic Registration, there were 322 Registered Dietitians (RDs) and Registered Dietitian Nutritionists (RDNs) in Delaware as of April 2022. The Bureau of Labor Statistics reports that as of May 2021, the average salary for dietitians and nutritionists in Delaware was $68,140, which surpasses the national average for this profession of $65,620 by nearly $3,000. Early career professionals earned about $59,500, while highly experienced pros earned about $87,750 during this time.*
According to the Delaware Dietetic Association, its members work in a wide variety of settings across the state of Delaware, including public health, community organizations, universities, fitness centers, schools, nursing homes, senior centers, school-based wellness centers, private practice, outpatient clinics, and hospitals.
There are two routes to becoming a licensed dietitian/nutritionist in Delaware, both of which are presented below.
Complete Registered Dietitian Education in Delaware
There are two routes to dietitian licensing in Delaware.
Option 1: Complete the Commission on Dietetic Registration (CDR)'s  Accreditation Council for Education in Nutrition and Dietetics educational, internship and examination route to licensure as a Registered Dietitian in Delaware

ACEND-Accredited Educational Programs Leading to Registered Dietitian (RD) status in Delaware:

Coordinated Programs in Dietetics (CP) – CP programs fulfill the CDR's educational and internship requirements. There is currently one CP program in Delaware:
Didactic Programs in Dietetics (DPD)-DP programs fulfill the CDR's educational requirement only, and students must complete an internship afterwards. There is one DPD program in Delaware:

University of Delaware, Newark

Bachelor of Science, Dietetics

Coursework in a DPD program in Delaware will include the following subjects:

Food science
Biology
Human physiology
Microbiology
Organic Chemistry
General Chemistry
Biochemistry
Nutrition concepts
Nutrition counseling
Food concepts
Macronutrients
Micronutrients
Nutrition in the life span
Nutritional assessment

Option 2: Complete education for a bachelor's degree from a regionally accredited university or college in one of the following fields, plus a supervised 900 hour internship:

Human nutrition
Food and nutrition
Nutrition education
Dietetics
Food systems management
Your coursework must contain:
3 credits in nutrition and disease or diet therapy
3 credits in human physiology
3 credits in biochemistry
12 credits of other dietetics/human nutrition courses
<!- mfunc feat_school ->
The following bachelors and Master's programs offer career-focused instruction delivered by trained nutritionists with experience in the field. Find out more what each individual course of study offers through the locations below.
Sponsored School(s)
Featured Nutritionist Programs
<!- /mfunc feat_school ->
Apply to a Dietetic Internship (DI) in Delaware
Whether you chose Option 1 or Option 2 above, you must complete a Dietetic Internship (DI) in Delaware. If you chose Option 1, you must attend an ACEND-accredited DI, which is 1200 hours in length. In Delaware, ACEND-accredited DIs include:
If you chose Option 2 above, you must still complete an internship in dietetics/nutrition that meets the following standards:
Internship must be supervised by a registered dietitian, a Delaware licensed healthcare practitioner or a professional with a doctoral degree in nutrition education, human nutrition, dietetics, food systems management or food and nutrition
Internship must take place within the U.S. or its territories
Your experience in the dietetics practice internship must be documented by your supervisor
Your experience in the dietetic practice internship must be at least 900 hours long
CDR Registration Exam for Registered Dietitians
If you are completing Option 1 above and have completed your Didactic Program in Dietetics and the Dietetic Internship, you are now ready to take the CDR's Registered Dietitian Exam. (If you are seeking licensure via Option 2, skip this step and go on to Step 4).
Your extensive and thorough education and internship should make you feel quite confident that you can pass the CDR's Registered Dietitian exam. The exam will cover most of the subjects included in your DPD program, in a computerized, multiple-choice, three-hour format. If you feel that you need extra help in preparing for the exam, the CDR provides resources on their website such as the   Comprehensive Study Outline and Study Guide and the Registration Examination for Dietitians Handbook for Candidates.
Also at the CDR website, you will apply to take and pay for the exam. The fee is $200 and payable by credit card. Pearson VUE Exam Centers will email you when they have received your payment, and prompt you to schedule your exam. Centers in Delaware include:
Dover- 1012 College Rd, Suite 104, The Kays Building
Newark – 111 Continental Drive, Suite 109
Please note that you must answer at least 125 questions on the CDR exam in order for it to be graded. The test will range from 125 to 145 questions.  You are not permitted to skip any questions, go back to change answers, or go back to review answers. You will receive your score at the test center after the exam is completed. If you pass, you will receive information from CDR about your new credentials as a Registered Dietitian (RD). If you fail, you may retake the exam in 45 days. Contact the CDR by email at cdrexams@eatright.org, or by telephone at (312) 899-4859 to set up a reauthorization to test.
Licensure as a Licensed Dietitian/Nutritionist
Regardless of whether you chose Option 1 or Option 2 above, you must now apply for licensing as a dietitian/nutritionist in Delaware before you can legally work in the state.
Option 1 applicants: If you completed the CDR route to registration as a dietitian, you must :

Submit a copy of your CDR registration card to the Delaware Board of Dietetics/Nutrition with your licensure application
Have the CDR send a credential verification directly to the Board (may be done electronically or through the mail)

Option 2 applicants: If you completed the other pathway, you must:

Have your college or university send transcripts directly to the Delaware Board of Dietetics/Nutrition, documenting that you have received a bachelor's degree as specified in Step 1, Option 2.
Instruct your internship supervisor to complete and submit a Supervised Practice Experience Assessment Form which is found in the Application packet below) directly to the Board, documenting that you have completed 900 hours of internship as specified in Step 2, Option 2.
If you have passed another dietetics or nutrition certification or registration examination, have the credentialing agency sponsoring the exam send verification of your passing score to the Board. Also, submit copies of any certification or registration cards you hold in nutrition or dietetics to the Board with your application.

Applicants Under Both Options Must:

Complete the State of Delaware Application for Licensure as a Dietitian/Nutritionist, making sure to have the affidavit at the bottom notarized
Enclose a licensing fee of $209, payable by check or money order to the State of Delaware
Mail everything to State of Delaware, Department of State, Division of Professional Regulation, Board of Dietetics/Nutrition, Cannon Building, 861 Silver Lake Blvd, Suite 203, Dover, DE 19904-2467.

After submitting your application with payment and all supporting documentation, you should receive your license by mail in four to six weeks. Once received, you may use the credentials "L.D.N." (Licensed Dietitian/Nutritionist) in the State of Delaware.
Licensure and Registration as a Dietitian in Delaware
Maintaining Your Delaware License
Your L.D.N. (Licensed Dietitian/Nutritionist) license in Delaware expires on May 31 of odd numbered years. The Delaware Board of Dietetics/Nutrition will mail you a renewal notice a few weeks prior to expiration, which will instruct you on renewing your license online. You must pay your renewal fee online as well, and will be notified of that fee in your renewal notice. 
Additionally, you must provide documentation that you have completed the necessary 30 hours of continuing education (CE) every two years to keep your license valid. You will attest to completion of these hours when you renew your license online. The Board will select L.D.N.s from random and audit their CE, so make sure to maintain accurate and complete records of all CE you have taken in case you are chosen for audit. Applicable CE is the same as the CPE (continuing professional education) that is approved by CDR for registration purposes, with the following exceptions:
No more than 15 CPE hours may come from self-study
No more than 6 CPE hours may come from exhibits
No more than 10 CPE hours may come from presenting posters
Maintaining your CDR Registration as a Registered Dietitian in Delaware
Under rules of the CDR, you must renew your registration as a Registered Dietitian (RD) in Delaware every five years. During each five-year span, you must complete 75 hours of approved CPE. The CDR's online CPE database and   PDP Guide  can help you find acceptable forms of CPE. Certain specialty certifications in nutrition and dietetics are also ways to fulfill the CPE requirements, and are listed in the PDP Guide.
View how to become a nutritionist in Delaware here.
*2021 US Bureau of Labor Statistics salary figures and job growth projections for dietitians and nutritionists reflect state data not school-specific information. Conditions in your area may vary. Salary statistics representing entry-level/early career = 25th percentile; senior-level/highly experienced = 90th percentile. Data accessed April 2022.