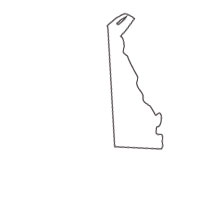 Delaware Nutritionist Certification
A nutritionist in Delaware must be licensed as to, according to the Delaware Board of Dietetics/Nutrition, "engage in the provision of nutrition services." The Board recognizes the terms "nutritionist" and "dietician" as being interchangeable, and the abbreviated title as being "LDN."
Only licensed nutritionists and dieticians can provide dietetic and nutrition therapy, including the delivery of prevention nutrition services and/or nutrition therapy. As such, licensed nutritionists in Delaware may assess an individual's specific nutritional needs and development and/or implement an intervention plan. An intervention plan may include counseling, nutrition education, and the monitoring of specialized nutrition support and/or referrals should an individual require additional services.
To become a licensed nutritionist in Delaware, you must be prepared to complete the following steps:
Licensure Study and Supervised Practice
All licensed nutritionists in Delaware must qualify by completing a specific course of post-secondary study, which includes a minimum of a baccalaureate degree from a regionally accredited college or university, with a major course of study in one of the following areas:
Human nutrition
Nutrition education
Food and nutrition
Dietetics
Food systems management
Following the completion of a bachelor's or master's degree in one of the above areas, you must complete a course of supervised practice in nutrition that includes at least 900 hours of documented and supervised practice experience, under the supervision of a registered dietician, a licensed healthcare provider, or an individual who possesses a doctoral degree from a regionally accredited institution with major course of study in nutrition education, human nutrition, food and nutrition, dietetics, or food systems management. Supervised experience must be completed in a U.S. state or territory.
<!- mfunc feat_school ->
The following bachelors and Master's programs offer career-focused instruction delivered by trained nutritionists with experience in the field. Find out more what each individual course of study offers through the locations below.
Sponsored School(s)
Featured Nutritionist Programs
<!- /mfunc feat_school -> <!- mfunc search_btn -> <!- /mfunc search_btn ->
Pass a Recognized Delaware Examination in Nutrition
To qualify for licensure as a nutritionist in Delaware, you must take and pass a national examination recognized by the Delaware Board of Dietetics/Nutrition, such as:
Apply for a Delaware Nutritionist License
Once you have met all the requirements for nutritionist licensure in Delaware, you must submit a completed, signed, and notarized Application for Licensure as a Dietician/Nutritionist. You must also enclose a $182 processing fee (check or money order made payable to the State of Delaware) and complete the following:
Request that copies of your official transcripts from your college/university to be sent directly to the Board office.
Arrange for your supervisor to complete and submit a Supervised Practice Experience Assessment form to the Board office
Provide the Board office with verification of your passing examination
All documents and application must be sent to:
Delaware Division of Professional Regulation
Attn: Board of Dietetics/Nutrition
Cannon Building
861 Silver Lake Boulevard
Dover, Delaware 19904
Maintain your Nutritionist License in Delaware
All nutritionist licenses in Delaware must be renewed biennially (May 31 of odd years). To maintain your nutritionist license in Delaware, you must submit proof of at least 30 hours of continuing education that meet the requirements of the American Dietetic Association during this 2-year period. Upon renewal of your license, you will be notified of the amount of the renewal fee.
You can expect to receive a renewal notice in the mail several weeks before the expiration of your license, which will explain how to access the online renewal application. To complete the renewal process, you must use a credit card to pay the renewal fee.
You can stay up-to-date on the latest news and developments in nutrition and learn about continuing education opportunities through a number of state and national associations, such as:
Delaware Dietetic Association
Delaware School Nutrition Association
American Nutrition Association
Academy of Nutrition and Dietetics
National Association of Nutrition Professionals
International and American Associations of Clinical Nutritionists
American Society for Nutrition
---
Health Coach Careers in Delaware
Have you been considering what it would take to become a health coach? Maybe you're wondering if there is even a market for this sort of career here.
The reality is that Delaware is a small state facing some big health challenges. According to the Delaware Department of Health and Social Services, the local population faces some significant concerns:
Nearly 70% of Delaware residents are overweight or obese.
The obesity rate doubled between 1990 and 2007.
Diagnosed diabetes doubled between 1998 and 2013.
In the face of those challenges the local government set some pretty ambitious goals for the state:
To be ranked as one of the five healthiest states in the nation
To reduce health care costs by 6 percent.
Considering that the state spends 25% more per capita on health care than the national average, financial considerations play heavily into these goals.
You won't be surprised to hear that long-term lifestyle habits play a big role in this challenge. Delaware Department of Health statistics reveal that:
Only 16.3% of individuals eat two or more fruits a day.
Only 14.3% of individuals eat two or more veggies a day.
Barely 20% of adults in Delaware meet CDC guidelines for aerobic and strengthening activities.
But here's the good news, and it involves you:
According to the New England Journal of Medicine, the largest determinant (40%) of a person's health is not genetics or environment, but behavioral patterns that can change.
As a health coach, you help people take their doctor's recommendations and turn them into action with the goal of enriching and lengthening their lives. Walking alongside individuals throughout the journey, you also get to watch the transformation process, while coaching and counseling them along the way.
How to Become a Health Coach: Programs and Professional Certificates
Unlike nursing or working as a physician's assistant, the road to becoming a health coach does not involve meeting licensing requirements.
Some health coaches go through extensive schooling, getting graduate level degrees from traditional universities. Others take online courses or specialize in an area like Exercise Science, filling in knowledge gaps with self-study.
Because the field is considered fairly new, there is no one state or national licensing body setting the rules for coursework and experience.
If you plan to practice in Delaware, though, there is one very important reality you will need to keep in mind as you map out your course: In this state health coaches without a license in dietetics must be aware of the type of services they are able to offer and those they can't.
Legally, only a licensed dietitian can provide therapeutic nutrition care in the state of Delaware. The exemption for health coaches is that you can still address diet issues as long as you are careful not to promote yourself as a dietitian of nutritionist.
For more information on the specifics of this law, check out the details here.
That said, there are no classroom-based institutions offering a degree in health coaching in Delaware.  As such, students often choose a related field, and then seek to fill their schedule with courses that will move them towards become a well-rounded coach.
<!- mfunc search_btn -> <!- /mfunc search_btn ->
Program Options in Delaware
As you chose the best road for your future, you can consider an undergraduate degree in any of these majors:
Nutrition
Health Behavior Sciences
Dietetics
Nursing
Public Health
Exercise Science
Food and Nutritional Sciences
Health Promotion
Movement Science
Health Sciences
Health Promotion
Applied Nutrition
If you've already finished the undergraduate leg of your journey, you may want to consider whether or not adding a graduate certificate or degree will best serve you. Delaware offers a handful of applicable degrees at the graduate level, including the following:
Health Coaching Certificate
Health Promotion
Human Nutrition
Nursing
Exercise Science
Non-Degree Health Coach Certification Programs
Not all employers require a degree, and some health coaches find that shorter, online programs get them on track to the kind of work they prefer.
Regardless of whether or not you choose to take on a full university program or just stick with a more focused online approach, certification is highly recommended.
A glance through job aggregation sites such as indeed.com and glassdoor.com reveal that certified health coaches and those with advanced degrees usually earn a considerably higher salary…often as much as 40% above those lacking such credentials.
One well-respected certifying body is the American Council on Exercise (ACE).
ACE offers the only Health Coach Certification program that is accredited by the National Commission for Certifying Agencies. If you wanted to obtain an ACE certification, you could choose from one of three tracks:
Health Coaching for Fitness Professionals
Health Coaching for Health Care Providers
Health Coaching for Workplace Wellness
If you'd like more information, check out the ACE Certification Candidate Handbook.
When examining other certifying bodies, you may want to consider those accredited by the newly formed yet academically robust National Consortium for Credentialing Health & Wellness Coaches.
Career Paths and Job Opportunities Available to Health Coaches in Delaware
It's interesting to note that Delaware's Department of Health mentions health coaches numerous times in plans and initiatives published over the past few years. As the government becomes more aware of the importance of these "bridge" workers, who help take doctor's suggestions out of the office and into real life, it is likely that we will see more opportunities for health coaches in both public and private sectors.
Already, workplace wellness programs around the nation are moving towards including health coaches as standard fare in their offerings, and with it's impressive health goals Delaware will likely need even more health coaches in the coming years.
Companies in Delaware known to hire or partner with health coaches include:
Delaware State Housing Authority
YMCA
University of Delaware
Blue Cross Blue Shield
Aetna
Highmark Health
WellCall
Provant
Often, a wellness organization will have staff health coaches that they assign to specific businesses. Sometimes, businesses will contact independent health coaches and work with them on a freelance basis.
Still not quite certain what it would look like to work as a staff health coach?
Check out the following job postings. This should give you an idea as to the diversity in health coaching jobs as well as clarify the expectations of employers. Please note that these postings are simply shared for purposes of illustration, and are not representative of actual job offers or promises of employment.
Onsite Health Coach, Viverae, Georgetown – The Onsite Health Coach provides lifestyle support within Viverae's health management programs. Health Coaches coach individuals in efforts to improve well-being, achieve wellness goals, and maintain a healthy lifestyle. Onsite coaches connect with employees at work locations to provide coaching, as well as onsite leadership for program engagement, health observance events, challenge kick-offs and check-ins, and biometric screening education.
Qualifications: Bachelor's degree in health promotion, exercise or wellness-related field. Certified health educator, personal trainer, or wellness coach preferred. Able to travel extensively.
Health Coach RN, Highmark Health, Wilmington – The Nurse Health Coach (HC) is the primary clinician providing condition and case management services to members with health-related conditions or serious medical issues. The HC uses clinical and motivational interviewing skills to assess members' needs and establish mutually agreeable short- and longer-term goals. The HC supports members in developing self-management skills and adopting positive behavior changes, identifies and addresses barriers to member's adherence to standards of evidence-based medicine, helps members to coordinate care and navigate the healthcare system, identifies on-line, telephonic and community-based resources to assist members in achieving their personal health goals, and proactively incorporates lifestyle improvement and prevention opportunities into member interventions.
Qualifications: Licensed Registered Nurse in Delaware. Prefer BSN or MSN with a certification in case management. Minimum of five years related experience.
Fitness Instructor, YMCA, Dover – Instructs group classes in a safe, enjoyable, and positive environment that promotes member wellness and engagement in accordance with YMCA policies and procedures. Answers questions from members to support them in achieving their goals related to healthy living. Maintains working knowledge of wellness and trends to provide effective information and support to members. Builds effective, authentic relationships with members; helps members connect with each other and the YMCA. Leads energizing, fun, safe, and educational group classes
Requirements: Must have completed a Basic Training Course and/or one specialty certification. CPR/AED and First Aid certifications required. This position requires the ability to communicate to individuals or groups with equal effectiveness.
Independent Health Coaches:
If you plan to work as an independent health coach, you are essentially opening your own small business. Every state has different rules for this process, and it will be important to make sure you've completed all necessary steps before starting to take on clients.
Any health coach seeking to start their own practice in Delaware must obtain a Delaware business license. You can do this by visiting the State of Delaware's One Stop Business Registration page. Additional explanations of steps required in Delaware to open your practice can be found the Delaware.gov's Steps to Opening a Business page.
State Resources for Health Coaches in Delaware
Delaware State Health Department and Wellness Initiatives
Delaware Department of Health and Social Services
DHSS Offices Throughout the States
Delaware State Innovation Models
Delaware State Housing Authority Wellness Plan
Professional Organizations and Certifying Bodies
Currently there are no health or wellness coach professional organizations in Delaware. As a health coach, however, you will likely find your work overlaps with that of those in related fields, and may find these organizations helpful to you:
Delaware Dietetic Association
Delaware Nurses Association
Healthy Delaware
Delaware Public Health Association  
 
Additional Helpful Links
State Laws Regarding Nutrition Counseling
One Stop Business Registration and Licensing System
Delaware Business License FAQ's
Law and the Health Coach