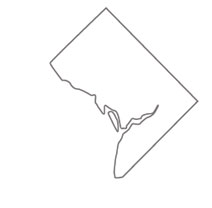 Follow the step by step process or choose what situation that best describes you:
Nutrition Careers in District of Columbia
As of April 2022, the Commission on Dietetic Registration reported a total of 231 Registered Dietitians (RDs) and Registered Dietitian Nutritionists (RDNs) in Washington DC. According to the Bureau of Labor Statistics, the average salary for dietitians and nutritionists in our nation's capital was $80,600, which was second only to California for the highest average salary in the nation. Early career professionals here earned about $62,220, while those with extensive experience earned about $101,220 during this time.*
The District of Columbia is unique in that is does not truly qualify as a state. However, it does have its own licensing regulations for health professionals, including dietitians. The District of Columbia is also responsible for some innovations in dietetics and nutrition. In 2010, the District of Columbia City Council passed the Healthy Schools Act (HSA) –legislation designed to improve student wellness at public schools in the district.
Registered Dietitians in the District of Columbia are largely responsible for the provisions of the HSA and have promoted the HSA through encouraging schools to become members of the Alliance for a Healthier Generation Healthy Schools Program; supporting nutrition related events at nearby schools; and getting involved with a local school's wellness committee.
If you would like to discover how to become a registered dietitian in the District of Columbia and reap not only monetary rewards but also gain professional fulfillment, read on.
Registered Dietitian Education in DC
The District of Columbia Board of Dietetics and Nutrition requires that all who wish to work as licensed and Registered Dietitians in the district complete education accredited by the Commission on Dietetic Registration (CDR)'s Accreditation Council for Education in Nutrition and Dietetics.
ACEND-Accredited Educational Programs Leading to Registered Dietitian (RD) credentials in the District of Columbia:
Coordinated Programs in Dietetics (CP) – satisfy the CDR's educational and internship prerequisites for registration. In DC, they include:
Didactic Programs in Dietetics (DPD)-satisfy the CDR's educational prerequisite only—you must still complete an internship afterwards. In DC, they include:
Coursework in all Registered Dietitian programs will include classes in:

Mathematics
Microbiology
Physiology and anatomy
Biochemistry
Chemistry
Biology
Community nutrition
Nutrition education
Clinical nutritional care
Management
Dietetics
Nutrition
Food science
<!- mfunc feat_school ->
The following bachelors and Master's programs offer career-focused instruction delivered by trained nutritionists with experience in the field. Find out more what each individual course of study offers through the locations below.
Sponsored School(s)
Featured Nutritionist Programs
<!- /mfunc feat_school ->
Apply to a Dietetic Internship (DI) in DC
After you have met the CDR's educational prerequisites, you must meet their experiential prerequisite. Complete an ACEND-accredited Dietetic Internship (DI) in the District of Columbia. Currently there are no DIs in the District of Columbia, so you could attend DIs in nearby Maryland instead, including:
CDR Registration Exam for Registered Dietitians
You are now well educated and experienced and set to take the CDR's Registered Dietitian Examination. Review the CDR's Comprehensive Study Outline and Study Guide and the Registration Examination for Dietitians Handbook for Candidates. The exam is multiple-choice and taken on the computer. You are allotted 180 minutes to complete from 125 to 145 questions. A minimum of 125 questions must be answered for the computer to correctly score your exam. You cannot skip or change answers, and must answer all questions in sequence. 
You will receive instructions through CDR to register and pay for the exam online. The examination fee is $200, payable via credit card. When your payment is received, Pearson VUE Exam Centers will send you an email scheduling request. Exam Centers in the District of Columbia area include:
901 New York Ave NW, Suite 320, Washington, DC
601 New Jersey Ave NW, Suite 340, Washington, DC
4350 East West Highway, Suite 525, Bethesda Towers, Bethesda, MD
1900 North Beauregard Street, Suite 12, Alexandria, VA
11150 Sunset Hills Rd, Suite 300, Reston, VA
The exam will include questions on Food and Nutrition Sciences, Management of Food and Nutrition Services and Programs, Nutrition Care for Individuals and Groups, and Food Service Systems. You will receive your score the day of the exam. A scaled score of 25 or better on a scale of 0 to 50 passes the exam. Failure to pass the exam means that you can re-take it, but no sooner than 45 days from the date of your first try at the exam. Contact the CDR by email at cdrexams@eatright.org, or by telephone at (312) 899-4859 to reschedule.


Licensure as a Dietitian in the District of Columbia
You are now ready to apply for licensing to practice dietetics in the District of Columbia. Download the New License Application for Dietitians. Check at the top that you are applying for licensure by examination. Enclose a licensing fee of $229 payable by check or money order only to DC Treasurer. Along with your application, enclose:
Two recent, passport-sized photos of your face, with your name on the back
Current copy of your CDR registration card
Copy of your driver's license or other government-issued photo identification card
You must also obtain a criminal background check, including fingerprinting. Information on this page can help you locate and schedule a center in which to accomplish this.
Mail the above information and payment to DC Board of Dietetics and Nutrition, P.O. Box 37802, Washington, DC 20013. Upon receipt, your application will be processed and you should receive your license by mail within six weeks.
*Extra: Want to Become a Nutritionist in the District of Columbia?
Would you rather work as a Nutritionist in the District of Columbia? In the District of Columbia the prerequisites for licensure for nutritionists are similar to those for dietitians, as their job descriptions in the District do not vary much. The prerequisites to become a nutritionist in the District of Columbia are:  
Completion of a bachelor's degree or higher in dietetics, human nutrition, food systems management or food and nutrition, from a regionally accredited institution
Pre-professional dietetic or nutrition experience totaling 900 hours for at least 22 weeks but not more than 25 weeks; at least one hour a week must be under immediate supervision of a dietitian or nutritionist
Pass the CDR Examination for nutritionists (same as the CDR Registered Dietitian Examination)
Complete the licensing requirements outlined in Step 4 above, making sure to have your official, certified transcripts from colleges/universities attended mailed directly to the Board. Use the New License Application for Nutritionist. Enclose payment of $264 via check or money order payable to DC Treasurer.
Mail the above information to DC Board of Dietetics and Nutrition, P.O. Box 37802, Washington, DC 20013. You will receive your Nutritionist license by mail in approximately six weeks. The renewal process and CE requirements for Nutritionists in the District of Columbia are identical to those for Registered Dietitians.
Licensure and Registration as a Dietitian in DC
Maintaining Your District of Columbia License
Your dietitian license in the District of Columbia will expire on November 1 of odd numbered years. About three months before its expiration date, the Board will send you a renewal notice. You will be given renewal forms and instructed about how to pay applicable renewal fees at that time. You must complete 30 hours of Continuing Professional Education (CPE) during each two-year period. Document your Continuing Education Units (CEUs) on this Continuing Education Submission Form. Make sure to attach a certificate of completion to each submission form, verifying that you have completed the CEUs. CEUs that are accredited/approved are listed on the DC Metro Area Dietetic Association's website.
Maintaining your CDR Registration as a Registered Dietitian in the District of Columbia
The CDR requires renewal of your registration as a dietitian in the District of Columbia every five years. You must also take 75 hours of CPEUs (continuing professional education units) every five years. Use the CDR's online CPE database and   PDP Guide  to determine what are approved forms of CPE and how to properly submit them.
View how to become a nutritionist in District of Columbia here.
*2021 US Bureau of Labor Statistics salary figures and job growth projections for dietitians and nutritionists reflect state data not school-specific information. Conditions in your area may vary. Salary statistics representing entry-level/early career = 25th percentile; senior-level/highly experienced = 90th percentile. Data accessed April 2022.