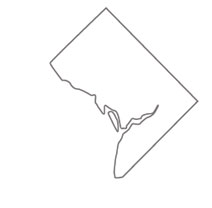 District of Columbia Nutritionist Certification
According to the Bureau of Labor Statistics, as of May 2013, nutritionists in the Washington D.C. metropolitan area earned a median annual salary of $58,350, or $28.14 per hour.
The District of Columbia's Board of Dietitian and Nutrition, under the Department of Health and Health Professional Licensing Administration, licenses both nutritionists and dieticians and therefore recognizes these professions as being distinct and independent of one another.
If you want to learn how to become a nutritionist in Washington D.C., you must be able to successfully complete the following:
Meet the Educational Requirements for Nutritionist Licensure
You must be able to meet the general requirements for nutritionist licensure in Washington D.C., which include:
You must be at least 18 years of age.
You must have not been convicted of an offense that is directly related to fitness or the practice of nutrition.
You must also possess a specific educational background, which includes one of the following:
You must have completed a bachelor's degree or higher with a major in:

Food Systems Management
Human Nutrition
Food and Nutrition
Dietetics; OR

You must have completed a bachelor's degree or higher with a major course of study that is equivalent to one of the above courses of study and has been approved by the Board; OR
You must have completed other training that is deemed to be substantially equivalent to one of the above major courses of study and has been approved by the Board.
Your degree must have been received from an institution that was approved by the appropriate accrediting body and recognized by the Council on Post-Secondary Accreditation or the U.S. Department of Education.
<!- mfunc feat_school ->
Complete a Specific Course of Pre-Professional Experience
Upon completion of your post-secondary education, you must successfully complete a course of pre-professional experience to be eligible for a nutritionist license in Washington D.C. This experience component must meet the following requirements:
The nutrition program was approved by the Board.
The program was completed under the direction of a licensed nutritionist or another individual authorized to practice nutrition in the U.S.
The program was at least 900 hours and was completed over of period of at least 22 weeks and not more than 45 weeks.
At least one hour per week was under the immediate supervision of a nutritionist and the remaining experience was under the general supervision of a nutritionist.
Your performance was rated satisfactory (at a minimum).
Your supervisor can submit (along with your application for licensure) a statement that you completed your supervised experience.
Note: you are deemed to have met the pre-professional requirements and therefore do not have to complete the above pre-professional experience if you:
Possess a master's or doctoral degree in nutrition
Have been actively engaged in the practice of nutrition for at least 2 of the preceding 5 years
Take and Pass the CDR Examination
Applicants for nutritionist licenses in Washington D.C. must take and pass an examination on the practice of food and nutrition through the Commission on Dietetic Registration (CDR).
The CDR Examination includes (but is not limited to) the following topics:
Food and Nutrition Sciences
Nutrition Care Process and Model
Counseling, Communication, Education, and Research
Food Service System
Apply for a Nutritionist License
To become a nutritionist in Washington D.C., you must complete a New License Application for Nutritionist and complete the Application Checklist for Nutritionist, which includes ensuring that the following documents are included with your application:
Two recent passport photos (2"x2")
A copy of your government-issued photo identification
Name change documents (marriage, divorce, etc.), if applicable
Moral Character Reference form (included with the application)
ADA/CDR Exam verification
Official transcripts from your college/university
Supervision Verification form (if applicable)
A check, money order or certified check (made payable to D.C. Treasurer) for $264 (application and license fee)
All documents must be sent to:
Department of Health
Health Professional Licensing Administration
Board of Dietetics and Nutrition
899 North Capitol Street, NE
Washington D.C. 20002
You can contact HPLA's Customer Service line at 1-877-672-2174 with any questions regarding the application process.
Keep your Nutritionist License Current
Your D.C. nutritionist license will expire on November 1 of odd-numbered years. You can expect to receive a renewal notice in the mail about 3 months before the expiration of your license. To renew your license, you must complete the renewal questionnaire and submit evidence of the satisfaction of the continuing education requirements.
To qualify for licensure renewal, you must complete at least 30 hours of Board-approved continuing education credits during the 2-year licensure period. A few of the continuing education activities approved by the Board include:
An undergraduate or graduate course given at an accredited college or university
A seminar related to human nutrition
A training workshop in nutrition or a nutrition-related field
An educational program at a conference that is specifically related to the discipline of nutrition
Nutrition-related presentations or poster board sessions in professional meetings