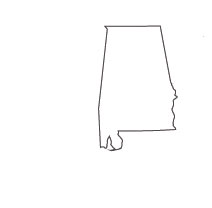 Steps to become a Registered Dietitian in Alabama
View how to become a nutritionist in Alabama here.
Follow the step by step process or choose what situation that best describes you:
RD Careers in Alabama
According to the Commission on Dietetic Registration (CDR), as of December 2013 Alabama has 1218 Registered Dietitians. The Bureau of Labor Statistics of the U.S. Department of Labor says that dietitians and nutritionists in Alabama earned an annual mean salary of $55,580 as of May 2018. Dietitians and nutritionists employed in the Southeast Alabama nonmetropolitan area earned the highest wages in the state, at $64,270. Other areas of Alabama in which dietitians and nutritionists earned higher than average median wages include Montgomery, at $63,980; and Tuscaloosa, at $60,610. The Alabama State Board of Examiners for Dietetics requires that all dietitians practicing in the state meet the following qualifications in order to become licensed to practice.
Finish Registered Dietitian Education in Alabama
If you are at least 19 years old, have a reputation of a good moral character, and earn at least a bachelor's degree from a Council on Higher Education Accreditation (CHEA)-regionally accredited institution with a major in a nutrition-related field along with a 900-hour internship, you may apply for a license to practice as a dietitian/nutritionist in Alabama (the state defines this profession as one and the same). The Commission on Dietetic Registration requires that you complete one of the following programs that are accredited by the Accreditation Council for Education in Nutrition and Dietetics (ACEND) before you may take the examination to become a Registered Dietitian (RD). Passing this exam is mandatory before you may apply for licensure as a RD in Alabama.
ACEND-Accredited Programs Leading to Registered Dietitian (RD) Licensure in Alabama:
Students have the following choices to fulfill the educational requirements Alabama imposes on Registered Dietitians:
Coordinated Programs in Dietetics (CP)- This type of programoffers undergraduate coursework and a supervised internship that fulfills both Alabama's and the ACEND requirements to become a licensed, registered dietitian in Alabama:
Didactic Programs in Dietetics (DPD) – These types of programs include undergraduate coursework leading to an undergraduate. The internship must be taken after the DPD is completed:
<!- mfunc feat_school ->
Apply for Dietetic Internship (DI) in Alabama
The state of Alabama as well as CDR requires that you complete a Dietetic Internship (DI) after fulfilling your undergraduate coursework in dietitian studies. The program must be accredited by ACEND and provide a minimum of 1200 hours of supervised work. If you chose the Coordinated Program in Dietetics (CP) option above, you have already fulfilled your internship requirement and do not need to apply to a DI in Alabama.  As all DI programs have a different emphasis, you should take this in account when choosing from one of these DI Programs in Alabama:
Take and Pass the (CDR) Examination.
Both the state of Alabama and CDR require that you pass the CDR Examination for Registered Dietitians prior to registration and licensing to practice in Alabama. Once you have completed your coursework and internship, CDR's testing service, ACT, Inc., will send you an email stating your eligibility to test. You have one year from the time of receiving this eligibility to take the test.
The Academy of Nutrition and Dietetics eatrightPREP for the RDN Exam Site is a valuable resource in preparing for the CDR exam. CDR also provides a Comprehensive Study Outline and Study Guide that are helpful for students wanting a little extra help in preparing to take the CDR exam. The Registration Examination for Dietitians Handbook for Candidates explains the application and testing process and should be reviewed.
CDR will give you the information necessary to create an online account, from which you may register for and pay for the examination ($200, payable by credit card online). Pearson VUE will email you confirming that your payment has been received, and will ask you to schedule the date, time and place for your CDR exam. These Exam Centers throughout Alabama are available continuously for taking the CDR exam:
4001 Carmichael Road, Suite 440, Montgomery
2 Chase Corporate Drive, Suite 20, Birmingham
3535 Grandview Parkway, Suite 640, Grandview I Office Bldg, Birmingham
2623 Montgomery Hwy, Suite 4, Carmel Plaza, Dothan
900 Western America Circle, Suite 212, Executive Center One, Mobile
401 Lee Street NE, Suite 602, Decatur
Don't forget to bring your government issued photo identification card along with your Scheduling Confirmation email to the testing center on exam day.
CDR Registration Exam for Dietitians
The Registration Exam for Dietitians is taken on a computer, and all questions must be answered in order as you are taking the exam. There are no corrections or skipped questions allowed. You will be given three hours to complete the exam, and will have from 125 to 145 questions (the length of each exam varies). In order for the computer to score your test, you must answer at least 125 questions.
The examination is multiple-choice and will cover the following concepts:
Principles of Dietetics (25 percent of exam)

Food Science/ Nutrient Composition
Nutrition/ Supporting Sciences
Education/ Communication/Technology
Research Applications

Nutrition Care – Individuals and Groups (40 percent of exam)

Screening/ Assessment
Diagnosis
Planning/Intervention
Monitoring/Evaluation

Management of Food and Nutrition Programs and Services (21 percent of exam)

Functions of Management
Human Resources
Financial Management
Marketing/Public Relations
Quality Management and Improvement

Food Service Systems (14 percent of exam)

Menu development
Production, Procurement, Service, Distribution
Sanitation/ safety
Equipment/facility planning
After you have finished taking the test, the test center proctor will give you a hard copy of your score report. A scaled score of 25 is required to pass the exam. CDR will email you within three weeks if you pass the exam and provide information on continuing education and maintaining your RD credential.
If you fail the exam, you may take it again, but must reauthorize to test again by email at cdrexams@eatright.org, or by telephone at (312) 899-4859.
Apply for State Licensing in Alabama.
Once you have passed the CDR Exam you have fulfilled Alabama's requirements for licensure as a dietitian/nutritionist. Complete the Alabama Board of Examiners for Dietetic/Nutrition Practice Application for Licensure. You must submit a copy of your identification card from CDR showing that you are a Registered Dietitian as well as a copy of your current government issued photo identification card with your application. You must also include the application fee of $100 plus the license fee of $150 via check or money order payable to the Alabama Board of Examiners for Dietetic/Nutrition Practice. Send this information to the Board at the address below.
Have your signature notarized at the end of the application. Make sure to provide the Reference Forms included in the application to two persons who know your qualifications and will provide references for you. Instruct them to mail the reference forms to the Alabama Board of Examiners for Dietetic/Nutrition Practice, P.O. Box 300500, Montgomery, AL 36130-0500.
Maintain License – Apply for Specialty Certifications
Renewing and Maintaining Your Alabama License
You are required to renew your Alabama license to practice as a Dietitian/Nutritionist biennially. During each two-year period, you must complete 30 hours of continuing professional education (CPE) that meets the Board guidelines and is sponsored by the following:
American Dietetic Association (ADA)
Commission on Dietetic Registration (CDR)
CDR approved organizations
Alabama Dietetic Association CPE Chairman
Approved CPE activities include:
Academic courses
Case presentations
Dietetic-related certificate programs sponsored by an accredited institution and accredited or approved by CDR, JCAHO or NCQA. (This may be used to fulfill all 30 hours of the CPE  requirement)
Exhibits
Developing experiential skills
Interactive workshops
Journal clubs
Seminars/lectures
Posters
Professional leadership
Professional reading
Research
Residency/fellowship programs
Independent learning that is sponsored
Study groups
Certification/recertification approved by CDR (may be used to satisfy the entire 30 hour CPE requirement)
Pre-approved self-study materials
License renewal and CPE submittal may be done online at the Board website. Include the renewal fee of $150 and all required documentation and verification of the CPE you have completed this renewal period.
Maintaining your CDR Registration as a Registered Dietitian in Alabama
You must renew your registration as a Registered Dietitian with the Commission on Dietetic Registration (CDR) every five years.  The CDR's PDP Guide  will help you to choose continuing professional education that is necessary to keep your registration current. You must take 75 continuing professional education units (CPEUs) every five years. CDR's online CPE database can help you to find approved CPE activities in Alabama.
Pursuing Specialty Certifications in Alabama
One way to fulfill the CDR's CPE requirement is to pursue a specialty certification in nutrition. That is not the only reason that Registered Dietitians become certified in specialties, however. Having a specialty can increase your marketability as a Registered Dietitian and can help you to pursue topics that are of particular interest to you. The CDR offers the following specialty certification programs in Alabama:
Board Certified Specialist, Pediatric Nutrition

Requires current RD status with CDR and maintenance of this status for at least two years
Requires documentation of 2000 hours of practice experience in pediatric nutrition within the past five years
Must pass an examination, with exam locations in Birmingham, Huntsville, Mobile and Montgomery
Recertification is required every five years through the documentation of 2000 practice hours, submitting the application fee and passing an exam

Board Certified Specialist, Oncology Nutrition

Requires current RD status with CDR and maintenance of this status for at least two years
Requires documentation of 2000 hours of practice experience in oncology nutrition within the past five years
Must pass an examination, with exam locations in Birmingham, Huntsville, Mobile and Montgomery
Recertification is required every five years through documenting 2000 practice hours, submitting the application fee and passing an exam

Board Certified Specialist, Gerontological Nutrition

Requires current RD status with CDR and maintenance of this status for at least two years
Requires documentation of 2000 hours of practice experience in gerontological nutrition within the past five years
Must pass an examination, with exam locations in Birmingham, Huntsville, Mobile and Montgomery
Recertification is required every five years through documenting 2000 practice hours, submitting the application fee and passing an exam

Board Certified Specialist, Sports Dietetics

Must have current RD status with the CDR and have maintained that status for at least two years
Must have documentation of 1500 hours of practice experience in sports dietetics in the past five years
Must pass an examination, with locations in Birmingham, Mobile and Montgomery
Recertification is required every five years through documenting 1000 practice hours, submitting an application fee, and passing an exam

Board Certified Specialist, Renal Nutrition

Requires current RD status with CDR and maintenance of this status for at least two years
Requires documentation of 2000 hours of practice experience in renal nutrition within the past five years
Must pass an examination, with exam locations in Birmingham, Huntsville, Mobile and Montgomery
Recertification is required every five years through documenting 2000 practice hours, submitting the application fee and passing an exam