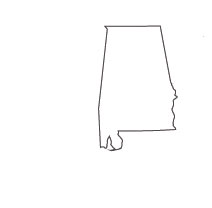 Alabama Nutritionist Certification
The Alabama State Board of Examiners for Dietetics and Nutritionists provides licensing for nutritionists and dieticians practicing in the State of Alabama. The Board of Examiners is authorized and directed to ensure that all regulations and standards governing the licensing of nutritionists is followed and that there are a set of minimum standards for all registered nutritionists in the State.
Nutritionists in Alabama are responsible for integrating and applying the principles of nutrition, physiology, biochemistry, food, management, and the behavioral and social sciences needed to achieve and maintain health. Nutrition services provided by licensed nutritionists may include:
Assessing the nutritional needs of individuals and groups
Developing, managing, and implementing nutrition care systems
Establishing priorities and goals that meet nutritional needs
Evaluating and making changes to appropriate standards of quality in food and nutrition services
Providing nutrition counseling in health and disease
Only individuals licensed in Alabama are authorized to use the title "dietician/nutritionist," "nutritionist," or "LN."
<!- mfunc feat_school ->
The following bachelors and Master's programs offer career-focused instruction delivered by trained nutritionists with experience in the field. Find out more what each individual course of study offers through the locations below.
Sponsored School(s)
Featured Nutritionist Programs
<!- /mfunc feat_school -> <!- mfunc search_btn -> <!- /mfunc search_btn ->
Licensure Requirements for Nutritionists in Alabama
To become a licensed nutritionist, candidates must:
Be at least 19 years old
Be able to submit evidence of good moral character and responsibility
Have completed a bachelor's degree or higher from a college or university  accredited by the Southern Association of Schools and Colleges or other regional accreditation agency with a major in one of the following:

Human Nutrition
Food Nutrition
Dietetics
Food Systems Management

Have completed a planned and continuous pre-professional experience in nutrition practices that totals at least 900 hours; the experience must be under the supervision of a registered dietician or practitioner licensed
Upon completion of an education and pre-professional program in nutrition, candidates for nutritionist jobs must take and pass an examination through the Commission on Dietetic Registration (CDR) from the Academy of Nutrition and Dietetics.
The examination covers the following topics:
Principles of Dietetics
Nutrition Care for Individuals and Groups
Management of Food and Nutrition Programs and Services
Foodservice Systems
The Application Process for Nutritionist Licensure in Alabama
To become licensed, applicants must complete an Application for Licensure and send it, along with two personal references, a current, picture identification, and $250 ($100 application fee and $150 license fee, made payable to the Alabama Board of Examiners for Dietetic Nutrition Practice) to:
Alabama Board of Examiners for Dietetic/Nutrition Practice
Post Office Box 300500
Montgomery, Alabama 36130
Licensure Renewal for Nutritionists in Alabama
Alabama nutritionist licenses must be renewed every 2 years. To renew a license, nutritionists must meet the continuing education requirements recognized through the Commission on Dietetic Registration, and complete a license renewal form.
A current copy of their driver's license and the $150 renewal fee (made payable to Alabama Board of Examiners for Dietetic/Nutrition Practice) must accompany the renewal form.
Renewal is dependent upon the completion of at least 30 hours of continuing education. Licensees must include copies of all certificates of attendance to verify the completion of their CPE hours.
More information about continuing education for nutritionists in Alabama can be found in the publication: Guidelines for Acceptable Professional Education Activities.
---
Health Coach Careers in Alabama
"Jammin' Minute" – this is a required time period in Marion Alabama schools when students expel energy in the middle of their school day, breaking up the sitting and general monotony of class. Marion Alabama schools implement this principle in an attempt to combat childhood obesity. Obesity is a growing problem all over the United States and Alabama is making this a central issue in its schools and child care systems; encouraging students to get a handle on their health from an early age.
The fact that Alabama had an adult obesity rate of 30%-35% in 2014 (Centers for Disease Control and Prevention) is something stakeholders in the state take very seriously. Ashley Obiaka, Executive Director for ConnectionHealth and a voice for Jefferson County Department of Health, argues that obesity prevention ought to begin with children since health habits often stick from a young age. Jefferson County goes so far as to limit screen time and require physical activities for children in child care programs throughout the day, while also requiring that half of the snacks provided in a given week be whole grains.
Beyond providing obesity solutions within schools and child care programs, the Alabama Department of Public Health (ADPH) produced a large-scale written remedy for the growing problem of obesity in the state. The ADPH published a 50 page manuscript titled, "Strategic Plan for the Prevention and Control of Overweight and Obesity in Alabama" including definitions of obesity and its causes and strategic solutions to combat the problem. Introductory statements in support of this document spoke of innovative and creative approaches to the issue of obesity and encouraged community effort in the process.
Alabama is passionate about improving health and moving forward with solutions and programs that encourage families to live healthier lifestyles. With all of these moves toward a healthier state, Alabama is a prime area for health coaches who are equally passionate about the health of the individual and the community and willing to earn the credentials necessary to fill jobs with the state's school systems, nonprofits, public health agencies and private sector employers.
Becoming a Health Coach: Earning a Relevant Degree and Professional Certification
Considering health coaching is a relatively new field and there is no specific degree dedicated to health coaching, you are given a certain level of freedom with selecting your bachelor's degree, electives, internships, certifications, etc. Several suitable degrees and a standard certification for employment are listed below.
Degree Options
Associate's degrees in areas like those shown here are suitable for some entry-level health coach jobs:
Healthcare
Social Work
Business Administration – Health Club Operations
Applied Science in Health and Wellness
A bachelor's degree in one of these areas is the most common qualification employers look for and is necessary for most health coach career opportunities:
Health Science
Behavioral Science
Social Work
Healthcare Management
Health Services Administration
Health and Wellness
Nutrition/Dietetics
<!- mfunc search_btn -> <!- /mfunc search_btn ->
A master's degree in one of these areas would be considered a very strong qualification, and would go beyond the general expectations of most employers:
Nursing
Healthcare Administration
Psychology – Sports and Performance specialization
Psychology – Health and Wellness specialization
Health and Wellness
Professional Certification
Most health coaching positions will require some level of certification although the specific certification employers look for may vary from one position to another. Earning certification serves as a field-specific credential denoting expertise beyond your baccalaureate degree. Certification is often required for employment because these credentials illustrate authority within the specialized scope of practice for health coaching.
American Council on Exercise (ACE) – ACE certification is accredited by the National Commission for Certifying Agencies (NCCA) and provides "standard" or "premium" self-study packages to prepare for the examination that leads to the Health Coach Certification. Certification through ACE must be renewed every 2 years by completing continuing education approved by ACE. The ACE Certification Candidate Handbook provides thorough details concerning the certification examination and maintenance process.
Health Coaching in Alabama: Career Paths and Job Opportunities
There are a number of ways in which you can become part of Alabama's movement toward health improvement. Health coaching jobs in the state vary significantly, allowing you to find where you, your skills, and education fit best.
The following job vacancy announcements represent the types of employment opportunities available to properly credentialed health coaches in Alabama. These job vacancy announcements are shown for illustrative purposes only and are not meant to represent job offers or provide an assurance of employment.
Health/Wellness Coach for Wellness Coaches USA – Huntsville, AL
You will work one-on-one with employees coaching and educating them on lifestyle and behavioral improvements concerning nutrition and fitness.
Requirements:
Bachelor's Degree
At least two (2) years of experience in Health Promotion
Athletic Training (ATC)
Health Promoter for MissionPoint Health Partners – Mobile, AL
You will serve as a personal health coach; help members with applying for aid, programs, benefits and any other non-clinical needs; provide documentation of assistance to care team and management; provide non-clinical assessments for members; oversee resources, mailing and community involvement, for members; encourage member involvement in resources.
Requirements:
Associate's Degree in social work, healthcare or other related fields or the combination equivalent of three years on the field with required high school equivalency
 Bachelor's Degree in social work, healthcare or other field related to wellness is preferable
Wellness Coach Certification or similar certification strongly preferred
Health Coach for Symbol Health Solutions, LLC – Albertville, AL
You will produce lifestyle modification services concerning nutrition; on-site coaching providing behavior modifications through various mediums for at-risk employees and spouses; oversee weight management and reduction of risks for chronic disease.
Requirements:
Bachelor's Degree in exercise physiology, health promotion, nursing, nutrition, health education, or other similar fields preferably
At least two (2) years of experience in coaching, education, working with individuals in disease prevention
Proficient knowledge of weight management, nutrition and exercise methods
Local Resources and Alabama Health Departments
Alabama Dietetic Association
State Health Planning and Development Agency
Alabama Public Health
Alabama Department of Human Resources – Food Assistance Division
Jefferson County Department of Health
ConnectionHealth
Mobile County Health Department