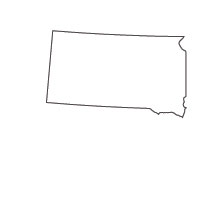 Follow the step by step process or choose what situation that best describes you:
Nutrition Job Description in South Dakota
According to the Commission on Dietetic Registration, there were 322 Registered Dietitians (RDs) and Registered Dietitian Nutritionists (RDNs) in South Dakota as of April 2022. The Bureau of Labor Statistics reports that dietitians and nutritionists in the state earned an average salary of $61,860 as of May 2021. Early career professionals earned about $47,380, while seasoned professionals earned about $97,720 during this time.
The state's largest metro area of Sioux Falls reported an average salary of just $57,660, or about $4,000 less than the state average.*
According to the South Dakota Academy of Nutrition and Dietetics, practice in nutrition or dietetics involves the integration and application of scientific principles of: biochemistry, physiology, management, behavioral science, social science, food, and nutrition to maintain the health of any population. Both dietitians and nutritionists must be licensed to practice in South Dakota.
Dietetic and nutrition professionals may work in any number of settings, including:
School cafeterias
Hospitals
Daycares
Nursing homes
Community centers, such as home health agencies and senior centers
Colleges, universities, or technical schools (teaching)
Researching for government agencies
Food or pharmaceutical companies
Health clubs or food and nutrition companies (consulting)
To practice as a registered dietitian in South Dakota, you must first become licensed, which involves successfully completing the following steps:
Dietetic Educational Program in South Dakota
According to the South Dakota Board of Medical and Osteopathic Examiners, in order to become licensed as a dietitian in South Dakota, you must complete a bachelor or graduate degree from an accredited college or university in:
Dietetics
Food service management
Food and nutrition
Nutrition education
Human nutrition
Further, to sit for the Commission on Registered Dietitians (CDR) Examination and become a registered dietitian (RD), you must complete a program that is accredited by the Accreditation Council for Education in Nutrition and Dietetics (ACEND).
ACEND-Accredited Programs Leading to a Registered Dietitian in South Dakota:
The following ACEND-accredited education program is located in South Dakota:
If you want to become a licensed nutritionist in South Dakota, you must:
Possess a master's degree or doctoral degree from an accredited college or university with a major course of study in one of the following areas:

Human nutrition
Public health nutrition
Clinical nutrition
Nutrition education
Community nutrition
Foods and nutrition

Complete at least 1,000 hours of documented, supervised practice in nutrition, which includes:

At least 200 hours of nutrition assessment
At least 200 hours in nutrition monitoring or evaluation
At least 200 hours in intervention, education, counseling, or management

Pass the CBNS Certifying Examination and receive a Certified Nutritionist Specialist (CNS) designation through the Certification Board for Nutritional Specialists (CNBS).
Complete the application for licensure as a nutritionist in South Dakota (see Step 4)
<!- mfunc feat_school ->
The following bachelors and Master's programs offer career-focused instruction delivered by trained nutritionists with experience in the field. Find out more what each individual course of study offers through the locations below.
Sponsored School(s)
Featured Nutritionist Programs
<!- /mfunc feat_school ->
Dietetic Internship in South Dakota
After completing the required education, you must apply to and complete a dietetic internship (DI) accredited by the Accreditation Council for Education in Nutrition (ACEND). All ACEND-approved DI programs include at least 1,200 hours of supervised practice, which meets the CDR requirements of 900 hours of supervised practice.
There is one DI program in South Dakota, with two options:
University of South Dakota, Sioux Falls

Full-time 22-month degree program

Emphasizing community nutrition
Culminates in a Master of Science in Nutrition and Exercise Science

Full=time non-degree program

Emphasizing community nutrition
Commission on Dietetic Registration (CDR) Exam
Once you complete your DI program, your program administrator will provide you with the information needed to register for the CDR examination. Your program administrator may also contact CDR on your behalf. You will be contacted to register to take the CDR exam and pay the application fee of $200. You have one year to register and take the CDR exam upon graduating from your DI program.
You will then receive an email from Pearson VUE Exams, the company that oversees the testing centers at which you will take the exam. There are more than 250 Pearson VUE Testing Centers in the country. There is one Pearson VUE testing center in South Dakota, in Sioux Falls. However, you may use any Pearson VUE testing center that is convenient to you.
On the date of the examination, you will be required to bring a government-issued photo ID with you, along with your confirmation email from Pearson VUE. Pearson VUE will provide you with a computer and simple calculator to take the exam. You may not use your own calculator.
The CDR exam consists of about 125 questions, which are divided up among the following areas:
Principles of Dietetics: 25 percent
Nutrition care for individuals and groups: 40 percent
Management of food and nutrition programs and services: 21 percent
Foodservice systems: 14 percent
You will have 3 hours to complete the examination, which includes 30 minutes for pretest questions that will allow you to become familiar with the exam and the computer.
Upon completing the examination, click the "report" button on your online account to immediately access your score. A passing score on the CDR examination is at least 25 (on a scale of 0 to 50).
If you fail the exam, you If you fail the exam, you may take it again, but must reauthorize to test again by email at cdrexams@eatright.org, or by telephone at (312) 899-4859.  You must wait at least 45 days to retake the examination. There is no limit to the number of times you can take the examination, provided you reschedule and pay the examination fee each time.
Licensure as an RD or Nutritionist in SD
After passing the CDR exam, you will be eligible to apply for licensure in South Dakota as a nutritionist or Registered Dietitian (RD). You must complete the application for dietician/nutritionist licensure using the South Dakota Online Application system.
You must first register with the system, which requires you to enter a username and password. You will also be required to use the site's online secure credit card payment system to pay for the $70 application fee. You can also use the same site to review your status and view any further instructions.
Once you complete the application and pay the application fee, you will receive instructions regarding the additional verification required by the South Dakota Board of Medical and Osteopathic Examiners.
Maintain your CDR Reg. and License in SD
State License Renewal
You must renew your South Dakota RD license online every two years (May 31 of odd-numbered years) and pay a biennial renewal fee of $100. There are no continuing education requirements in South Dakota, although you must maintain your current registration with the Commission on Dietetic Registration to qualify for renewal.
CDR Registration Renewal
To maintain your RD credential, you must recertify with CDR every five years and provide documentation of at least 75 hours of continuing education.
*2021 US Bureau of Labor Statistics salary figures and job growth projections for dietitians and nutritionists reflect state data not school-specific information. Conditions in your area may vary. Salary statistics representing entry-level/early career = 25th percentile; senior-level/highly experienced = 90th percentile. Data accessed April 2022.