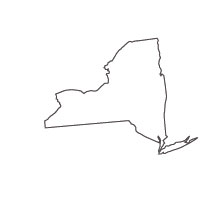 Follow the step by step process or choose what situation that best describes you:
New York Career Information
According to the Commission on Dietetic Registration, there were 7,188 Registered Dietitians (RDs) and Registered Dietitian Nutritionists (RDNs) in New York as of April 2022. As of May 2021, the Bureau of Labor Statistics reported that dietitians and nutritionists in the state earned an average salary of $72,800, which is about $7,000 higher than the national average of $65,620 for this profession. Early career professionals earned about $60,590, while late career pros earned about $98,540 during this time.
The major NYC metro area reported an even higher average salary of $75,900 and ranked first in the nation for its employment of dietitians and nutritionists as of May 2021.*
The state of New York offers certification as a dietitian-nutritionist to those who qualify. Becoming a registered and certified dietitian in New York means completing a number of steps, which include:
Get Your Dietetic Education Program in New York
The easiest way to meet both the CDR and New York's requirements to become a registered and certified dietitian in New York is to earn a bachelor's degree or higher from an educational program accredited by the Accreditation Council for Education in Nutrition and Dietetics (ACEND) of the Academy of Nutrition and Dietetics. Under New York law, these programs must include at least 45 semester hours in the following professional dietetics/nutrition content areas:
Assessment and evaluation of the nutritional status of individuals, families, and communities
Counseling, education, and communication skills
Ethics and professionalism
Food service management
Human nutrition needs throughout the life span
Interpretation of nutrition information and its application
Nutrient composition of food
Principles of nutrition in health and disease 
Diet modifications
ACEND-Accredited Dietetic Programs in New York:
There are two types of ACEND-accredited dietetic programs in New York:
Coordinated Programs (CP)
Coordinated programs include both the dietetics education component (bachelor's or graduate degree), as well as the supervised practice component, which includes at least 1,200 hours of supervised practice. Upon completion of a CP in New York, you are eligible to sit for the Commission on Dietetic Registration (CDR) and receive the registered dietitian (RD) designation.
The following four coordinated programs are located in New York:
Didactic Programs (DP)
Didactic programs in dietetics culminate in a bachelor's or graduate degree in dietetics, yet do not include the supervised practice component necessary to achieve the registered dietitian credential and certification in New York. Because of this, upon completing a DPD, you must then apply for and complete a dietetic internship (DI) program before you can qualify to sit for the CDR exam and become a registered and certified dietitian in New York.
The following 13 didactic programs are located in New York:
<!- mfunc feat_school ->
The following bachelors and Master's programs offer career-focused instruction delivered by trained nutritionists with experience in the field. Find out more what each individual course of study offers through the locations below.
Sponsored School(s)
Featured Nutritionist Programs
<!- /mfunc feat_school ->
Finish Your Dietetic Internship (DI) in NY
Upon completion of a DPD, you must apply for and successfully complete a dietetic internship (DI) in New York. New York law requires a dietetic internship to include at least 800 hours of supervised practice, although all ACEND-accredited programs include 1,200 hours of supervised practice.
The following ACEND-accredited DI programs are located in New York:
Commission on Dietetic Registration (CDR) Exam
Upon completing an ACEND-accredited DPD/DI program (or coordinated education program), you will become eligible to take the Commission on Dietetic Registration (CDR) exam, a requirement for becoming a registered and certified dietitian in New York.
Your program administrator will likely contact the CDR on your behalf. As such, you can expect to receive email correspondence with instructions on how to register for the exam and pay the $200 application fee. You will have 365 days from the day you complete your DI program to register and take the exam.
After you have successfully registered and paid for the exam, you will receive another email, from Pearson VUE Exams, the testing company. You must schedule the date, time, and location of your CDR exam at one of these locations. Within New York, you may take the CDR exam at one of the following locations:
Brooklyn
Forest Hills
Islandia (Long Island)
Lake Success (Queens)
New York City (centers at Herald Square, Lexington Ave., William St., W. 44th St.,
Staten Island
White Plains
Yonkers
Before taking the CDR exam, it may benefit you to prepare for the exam by reading the Comprehensive Study Outline and Study Guide and the Registration Examination for Dietitians Handbook for Candidates.
On the day of the exam, bring the Pearson VUE confirmation email and your government-issued photo ID with you.
The CDR exam is a computer-based exam consisting of between 125 and 145 multiple-choice questions, which include 25 non-scored, pre-test questions. You will have 2 ½ hours to complete the exam and a simple calculator to help you complete it.
Upon completing the exam, you can immediately check your score by clicking the "report" button in your online account. You must score at least 25 on a scale of 0 to 50 to pass the exam.
If you fail the exam, you may retest after 45 days. You must reauthorize to test again by email at cdrexams@eatright.org, or by telephone at (312) 899-4859.
Apply for Licensure as a Dietitian in New York
Upon passing the CDR exam and receiving your RD designation through the CDR, you must now apply for state certification. Both dietitian and nutritionists must be licensed to practice in New York.
Begin the application online. Submit the licensure/first registration fee of $294. Upload additional documentation as necessary.
If you must mail any documentation in, the address is:
NYS Education Department
Office of the Professions
Dietetics-Nutrition Unit
89 Washington Ave
Albany, NY 12234-1000
Maintain NY State License and Registration
The Commission on Dietetic Registration (CDR) requires registration renewal every 5 years. You must document at least 75 hours of continuing education (recorded in your CDR PDP Guide ) during every renewal period to qualify. Find approved CPE educational activities in New York in this database.
You can renew your New York registration using the online renewal system. There are no continuing education requirements in New York.
View how to become a nutritionist in New York here.
*2021 US Bureau of Labor Statistics salary figures and job growth projections for dietitians and nutritionists reflect state data not school-specific information. Conditions in your area may vary. Salary statistics representing entry-level/early career = 25th percentile; senior-level/highly experienced = 90th percentile. Data accessed April 2022.