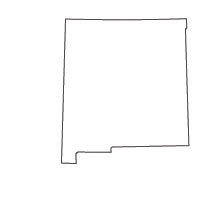 Steps to become a Registered Dietitian in New Mexico
View how to become a nutritionist in New Mexico here.
Follow the step by step process or choose what situation that best describes you:
New Mexico Nutrition Job Information
According to the Bureau of Labor Statistics (BLS), dietitians and nutritionists working in New Mexico earned a mean annual salary of $54,300 in May 2018.  The BLS also reported that, nationwide, the industries with the highest concentration of employment for nutritionists and dietitians during the same period were in outpatient care centers, personal care services, and specialty hospitals.
Further, the top-paying industries for nutritionists and dietitians, as of May 2018, were: grant making and giving services ($73,910); merchant wholesalers and nondurable goods ($73,610); federal executive branch ($73,520); insurance carriers ($69,210) and wholesale electronic markets and agents and brokers ($68,920).
The Nutrition and Dietetic Practice Board, within the New Mexico Regulation and Licensing Department, requires all practicing dietitians in New Mexico to possess a license. In order to legally practice in New Mexico as a registered and licensed dietitian, you must complete the following steps:
Comprehensive Education Program in Dietetics
The New Mexico Nutrition and Dietetic Practice Board requires a current and valid Commission on Dietetic Registration (CDR) registration to qualify for licensure. And, to qualify for CDR registration, you must first complete a dietetic education program approved by the Accreditation Council for Education in Nutrition and Dietetics (ACEND) that results in a bachelor's or graduate degree.

ACEND-Accredited Education Programs in New Mexico:
There are two types of ACEND-approved educational programs for prospective dietitians. Coordinated Programs (CP) combine undergraduate coursework and a supervised internship to fulfill New Mexico's and the CDR's requirements to become licensed in New Mexico. As of July 2019, there are no approved CPs in New Mexico.
Didactic Programs in Dietetics (DPD) feature undergraduate coursework only, without an experiential component. They must be followed by a Dietetic Internship (DI). In New Mexico, approved programs include:
The Nutrition Dietetic Practice Board also requires a license to practice as a nutritionist in New Mexico. To qualify for a nutritionist license in New Mexico, you must possess the following:
Master's or doctorate degree from a regionally accredited college or university in one of the following:

Human nutrition
Nutrition education
Foods and nutrition
Public health nutrition

A valid, current membership in either the American Clinical Board of Nutrition or the American Society for Nutrition
Pass an examination related to entry-level nutrition practice and nutrition care services
Application for a nutritionist license follows the same guidelines as a dietitian license (see Step 4).
<!- mfunc feat_school ->
Dietetic Internship (DI) in New Mexico
Upon the successful completion of your ACEND-accredited dietitian education program, you must apply for and complete a competitive dietetic internship (DI) in New Mexico. Like the education programs, your DI must be accredited by ACEND. All ACEND-accredited programs include at least 1,200 hours of supervised practice.
The following ACEND-accredited DI programs are located in New Mexico:
Commission on Dietetic Registration (CDR) Exam
Upon the successful culmination of your DI program, you will be eligible to sit for the Commission on Dietetic Registration (CDR) Exam.
Your DI program director will alert the CDR to your eligibility to sit for the CDR exam, so you can expect to receive an email from Pearson VUE, the company contracted with CDR to give the CDR exam. They will provide you with information on how to register for the exam and how to pay the $200 application fee. You have 365 days from the time you receive the registration information to register for and take the examination.
Upon registering and paying for the exam, you will receive another email from Pearson VUE, the company that oversees the testing centers where you will be taking the CDR exam. Within New Mexico, you can take the CDR exam in Albuquerque only (or in nearby states if this is not convenient for you). You must schedule the time, date and location for your CDR exam.
You can prepare for the CDR examination by reading the Comprehensive Study Outline and Study Guide and Registration Examination for Dietitians Handbook for Candidates.
On the day of the exam, you must bring the confirmation email from Pearson VUE s and your government-issued photo identification with you.
You will have 2 ½ hours to complete the CDR exam, a computer-based, multiple-choice examination that has between 125 and 145 questions, 25 of which are non-scored pre-test questions. Pearson VUE will provide you with a simple calculator to complete the examination.
Once you have finished the exam, you can immediately view your score by clicking on the "report" button of your online account. You must score at least 25 on a scale of 0 to 50 to pass the CDR exam.
If you fail the exam, you may retake it, but you have to wait at least 45 days and receive reauthorization to retest from CDR to do so. You can contact CDR at 1-800-877-1600 for more information on the retesting requirements.
Apply for State Licensure in New Mexico
After receiving your CDR registration, you are ready to apply for New Mexico state licensure. You must complete the Licensure Application, have it notarized, and include the following with your application:
A $200 fee ($50 application fee and $150 initial license fee), payable to the Nutrition and Dietetics Board
A certified copy of your CDR card
Mail the completed and notarized application related documents to:
New Mexico Regulation and Licensing Department
Boards and Commissions Division
Nutrition and Dietetic Practice Board
5500 San Antonio Drive NE
Albuquerque, NM 87109
Registration and New Mexico Dietitian License
All dietitian and nutritionist licenses in New Mexico are renewed on an annual basis. Your license must be renewed one year from its issuance, and may be done so online or via their renewal form. Along with a renewal application, you must submit a $75 renewal fee, show proof of your current registration with the CDR and proof of the completion of at least 15 clock hours of continuing education. If you have acquired more than 15 clock hours of continuing education, you may carry them over to the next renewal period.
To maintain CDR registration, you must complete at least 75 hours of continuing education during the five-year renewal period. Provided you have met the 15-hour continuing education requirement in New Mexico, you will be meet this 75-hour requirement and remain eligible for renewal with the CDR.
Current examples of approved CDR continuing education activities within the state of New Mexico include:
NaSCEND Essentials Conference by Kendra Schreiner (7.0 CPEUs)
Nutritional Psychiatry: Your Brain on Food by MED 2000 (6.0 CPEUs)
Pursuing Specialty Dietary Certifications in New Mexico
Some registered dietitians choose to pursue a specialty dietary certification in New Mexico. Not only does this increase a RD's marketability, it also helps to fulfill the CDR's continuing education requirements. Some examples of approved specializations for which you can get credit include:
CDR Board Certified Specialist in Oncology Nutrition

Must maintain RD status with CDR for at least two years prior to application
Must document 2000 hours of practice experience in oncology nutrition within the past five years
Must pass an examination
Recertification is required every five years by documenting another 2000 practice hours, paying the application fee and passing an exam

CDR Board Certified Specialist in Gerontological Nutrition

Must maintain RD status with CDR for at least two years prior to application
Must document 2000 hours of practice experience in gerontological nutrition within the past five years
Must pass an examination
Recertification is required every five years by documenting another 2000 practice hours, paying the application fee and passing an exam

CDR Board Certified Specialist in Pediatric Nutrition

Must maintain RD status with CDR for at least two years prior to application
Must document 2000 hours of practice experience in pediatric nutrition within the past five years
Must pass an examination
Recertification is required every five years by documenting another 2000 practice hours, paying the application fee and passing an exam

CDR Board Certified Specialist in Renal Nutrition

Must maintain RD status with CDR for at least two years prior to application
Must document 2000 hours of practice experience in pediatric nutrition within the past five years
Must pass an examination
Recertification is required every five years by documenting another 2000 practice hours, paying the application fee and passing an exam

CDR Board Certified Specialist in Sports Dietetics

Must maintain RD status with CDR for at least two years prior to application
Must document 2000 hours of practice experience in pediatric nutrition within the past five years
Must pass an examination
Recertification is required every five years through documenting another 1000 practice hours, paying an application fee, and passing an exam