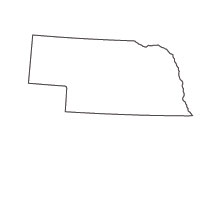 Follow the step by step process or choose what situation that best describes you:
Registered Dietitian job Description in Nebraska
According to the Commission on Dietetic Registration, there were 766 Registered Dietitians (RDs) and Registered Dietitian Nutritionists (RDNs) in Nebraska as of April 2022. The Bureau of Labor Statistics reports that nutritionists and dietitians in Nebraska earned an average salary of $59,720 as of May 2021. Early career professionals earned about $48,000, while those with extensive experience earned about $78,220 during this time.
The large metro area of Omaha reported an average salary of $62,410 for dietitians and nutritionists during this time, which was about $3,000 more than the state average.*
The Department of Health and Human Services in Nebraska, which is part of the Division of Public Health, licenses dietitians in Nebraska. However, unlike other states, Nebraska licenses dietitians as Licensed Medical Nutrition Therapists, with the credential being LMNT.
Nebraska recognizes LMNTs as being registered dietitians who work in the treatment and prevention of disease. Because they administer "medical nutrition therapy," they are often part of medical teams working in hospitals, out-patient counseling centers, private practice, HMOs, nursing homes, extended care facilities, and research and academia.
It is important to note that in Nebraska, a license is not required to provide general nutrition services, such as identifying nutritional needs of individuals and groups or planning, implementing, and evaluating nutrition programs for individuals and groups.
Follow these steps to become a Licensed Medical Nutrition Therapist in Nebraska.
Complete an Education in Dietetics in Nebraska
According to Nebraska law, in order to become a Licensed Medical Nutrition Therapist, you must meet one of the following criteria:
Become a Registered Dietitian (RD) with the Commission on Dietetic Registration (CDR) of the American Dietetic Association (ADA). This entails:

Completing a course of study resulting in a bachelor's or graduate degree from a college or university that is accredited by the Accreditation Council for Education in Nutrition and Dietetics (ACEND); and
Completing at least 900 hours of a supervised clinical experience in human nutrition, nutrition or nutrition and dietetics (see Step 2 below); and
Passing the CDR exam (see Step 3 below)
OR:
Hold a master's or doctoral degree in food and nutrition, nutrition education, human nutrition, public health nutrition or the equivalent AND pass the CDR;
OR:
Hold a master's or doctoral degree in clinical nutrition, including 200 hours of biochemistry or physiology and 75 hours of human nutrition, AND pass the CDR.
ACEND-Accredited Dietetic Programs in Nebraska:
If you choose the first option above, there are two types of dietetic education programs approved by ACEND: Coordinated Programs in Dietetics (CP) and Didactic Programs in Dietetics (DPD). The main difference between the two types of programs is that the CP offers both coursework and a supervised internship, while the DI offers just the coursework – the dietetic internship (DI) must be pursued after completion.
Coordinated Programs in Dietetics (CP): As of July 2019, there are no ACEND-approved CPs in Nebraska
Didactic Programs in Dietetics (DPD): There is one DPD in Nebraska as of July 2019:
<!- mfunc feat_school ->
The following bachelors and Master's programs offer career-focused instruction delivered by trained nutritionists with experience in the field. Find out more what each individual course of study offers through the locations below.
Sponsored School(s)
Featured Nutritionist Programs
<!- /mfunc feat_school ->
Dietetic Internship (DI) in Nebraska
Upon completion of your ACEND-accredited DPD educational program, you will be eligible to apply for a competitive dietetic internship (DI) in Nebraska.
All DI programs accredited by ACEND include at least 1,200 hours of supervised practice, which is above the 900 hours of supervised practice required by the Department of Health and Human Services.
There are 2 DI programs in the State of Nebraska:
Commission on Dietetic Registration (DCR) Exam
In any of the scenarios to become a LMNT in Nebraska, you must pass the CDR exam. If you have chosen Option 1 above, once you have completed your DI program, you will be contact by Pearson Vue., the company that handles the examination for CDR. You will be asked to register to take the exam and pay the $200 examination fee, both of which can be done online. From the time you receive correspondence from Pearson Vue, you will have 365 days to register for and take the examination.
After you have registered and paid the registration fee, you will receive an email from PSI Exams, asking you to schedule a date, time, and location for your CDR exam. PSI has more than 250 testing centers across the United States where you can take the exam. In Nebraska, they include:
| | |
| --- | --- |
| | 121 N. Dewey, Suite 212, Nebraskaland Bank Building |
| | 300 North 44th St., Suite 104, 44 Corporate Place Office Park |
| | 3506 North 147th Street, Suite 202 |
Before taking the CDR exam, it is often a good idea to prepare for the exam by reading the Comprehensive Study Outline and Study Guide and the Registration Examination for Dietitians Handbook for Candidates.
The CDR exam is a computer-based, multiple-choice examination that consists of between 125 and 145 questions, 25 of which are pre-test questions that are not scored. You will have 2 ½ hours to complete the examination, and you will be given a simple calculator.
Upon completion of the exam, you can immediately view your score by going into your online account and clicking the "report" button. You must score at least 25 on a scale of 0 to 50 to pass the exam.
If you fail the exam, you may retest after 45 days, but you must first obtain authorization to do so from CDR. Email them at cdrexams@eatright.org , or call them at (312) 899-4859.
Apply for a Dietitian License in Nebraska
To obtain a license in Nebraska as an LMNT, you must complete the Application for Medical Nutrition Therapy Licensure. Make sure that:
You are at least 19 years old
You submit proof of U.S. citizenship/permanent residency
You submit a copy of your CDR registration card
You submit an official college/university transcript
You submit conviction records, if applicable
Your license fee will be dependent on the month and year (even or odd) in which the license is being issued. The average fee is $114 but it is prorated. See the license application for details.
Send everything to:
Nebraska Division of Public Health- Licensure Unit
P.O. Box 94986
301 Centennial Mall South
Lincoln, NE 68509-4986
License and CDR Registration in Nebraska
You must renew your license on September 1st of every odd-numbered year. The cost of renewal is $114. To qualify for licensure renewal, you must complete at least 30 hours of approved continuing competency programs/activities during the preceding 24-month period. A listing of currently approved programs for Continuing Education may be found here.
To maintain your RD designation through the CDR, you must complete at least 75 continuing education credits and apply for renewal every five years. The CDR requires that you track and maintain your continuing education information through the Professional Development Portfolio. You can find qualifying CPE through the CDR's online CPE database. As of July 2019, qualifying programs in Nebraska include:
CHI Health Nebraska Dietetics Journal Club, for 3.0 CPEUs, May 1- Dec 1
Pediatric Renal Transplant Nutrition Care, by Vitaflo USA, for 1.0 CPEU, Aug 2017-20
13th Biennial Breastfeeding: Baby's Natural Choice Conference, by The Nebraska Medical Center, for 6.5 CPEUs, on Aug 28, 2019
Stress: Resilience & Happiness, by Institute for Natural Resources, for 6.0 CPEUs, multiple dates
View how to become a nutritionist in Nebraska here.
*2021 US Bureau of Labor Statistics salary figures and job growth projections for dietitians and nutritionists reflect state data not school-specific information. Conditions in your area may vary. Salary statistics representing entry-level/early career = 25th percentile; senior-level/highly experienced = 90th percentile. Data accessed April 2022.