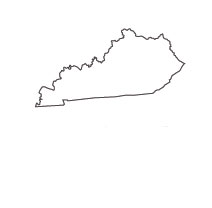 View how to become a nutritionist in Kentucky here.
Follow the step by step process or choose what situation that best describes you:
Nutrition Career Information in Kentucky
According to the Commission on Dietetic Registration, there were 1,369 Registered Dietitians (RDs) and Registered Dietitian Nutritionists (RDNs) in Kentucky as of April 2022. The Bureau of Labor Statistics reports that dietitians and nutritionists in Kentucky earned an average salary of $57,950 as of May 2021. Early career professionals here earned about $48,000, while those with extensive experience earned about $77,740 during this time.
In large metro areas, average salaries often exceed the state average. For example, the Louisville metro area reported an average salary of $62,110 for dietitians and nutritionists as of May 2021.*
For more information on how you can become a registered dietitian in Kentucky and claim these annual salaries, keep reading.
Complete Registered Dietitian Education in Kentucky
The Kentucky Board of Licensure and Certification for Dietitians and Nutritionists requires that all who wish to become licensed dietitians in the state first become Registered Dietitians (RD) through the Commission on Dietitian Registration (CDR) of the American Dietetic Association (ADA). This means that you must complete an Accreditation Council for Education in Nutrition and Dietetics (ACEND)-approved course of study, resulting in a bachelor's degree or higher.
ACEND-Accredited Educational Programs Leading to Registered Dietitian (RD) status in Kentucky:
Coordinated Programs in Dietetics (CP) – A CP combines dietitian coursework with an internship, fulfilling the CDR's requirement for registration:

University of Kentucky, Lexington

Bachelor of Science in Dietetics
3.5 years of academics
8 months of supervised practice, rotating among medical nutrition therapy, food service systems management, and community nutrition
Nutrition and dietetics courses that you will take in this program include:

Medical nutrition therapy I and II
Dietetics: Counseling and Communication Theories and Applications
Advanced Nutrition
Seminar in Food and Nutrition
Community Nutrition and Wellness
Human Resources Management for the Food and Hospitality Industries
Institutional Purchasing
Nutrition and Wellness in the Life Cycle
Quantity Food Production
Nutritional Biochemistry
Experimental Foods
Principles of Food Preparation
Dietetics Practice

Didactic Programs in Dietetics (DPD) – A DPD includes just the coursework required by the CDR for registration. You must still complete an internship after:
<!- mfunc feat_school ->
The following bachelors and Master's programs offer career-focused instruction delivered by trained nutritionists with experience in the field. Find out more what each individual course of study offers through the locations below.
Sponsored School(s)
Featured Nutritionist Programs
<!- /mfunc feat_school ->
Apply to a Dietetic Internship (DI) in Kentucky
You must complete a minimum of 900 hours in a supervised Dietetic Internship (DI) accredited by ACEND. In Kentucky, they include:
Pass the CDR Registration Exam in Kentucky
The CDR Registration Exam that you must pass in order to become a Registered Dietitian in Kentucky should be quite easy for you now that you have completed your education and experiential components. The test is three hours and is administered via the computer. It consists of up to 145 questions with multiple-choice answers. A minimum of 125 questions must be answered for the exam to be scored. You cannot skip or change answers. The test costs $200 and you register online through the CDR. Pearson VUE Exam Centers in Kentucky at the following locations host the test:
Lexington:
Lexington:
Louisville:

2720 Old Rosebud Rd, Suite 180
230 Lexington Green Circle, Suite 220
9400 Bunsen Parkway, Suite 220, Hunnington Center
You must get at least 25 (on a scaled score of zero to 50) to pass test. You will receive your results the day of the exam. Passing the exam gives you the title of Registered Dietitian (RD).
Apply for Licensure as a Dietitian in Kentucky
Once you have passed the CDR's registration exam for dietitians, you are ready to apply for licensure as a dietitian with the Kentucky Board of Licensure and Certification for Dietitians and Nutritionists. Complete the Application for Licensure/Certification, checking the box on the form indicating which you want to file for (Dual Licensure/Certification, which allows you to practice as an RD and LD, is the most commonly checked box for Kentucky dietitians). Enclose the application fee of $50 and a copy of your CDR registration card. Return everything to State of Kentucky Office of Occupations and Professions, 911 Leawood Drive, Frankfort, KY 40601. Once you are licensed, you may use the LD (Licensed Dietitian) credentials to practice in Kentucky.
Maintain Your Licensing as a Dietitian in Kentucky
Maintaining Your Kentucky Dietitian Licensing
Your Kentucky license to practice as a dietitian renews every year on October 31. You may renew online. During that year, you must complete at least 15 hours of continuing education. Approved CE providers are the same as the CE providers that the CDR approves (see below).
Maintaining your Registration as a Registered Dietitian in Kentucky
You are required to renew your registration with the CDR on a five-year basis. You must complete 75 hours of continuing professional education (CPE) every five years. Acceptable education in Kentucky can be located by searching CDR's online CPE database. Their PDP Guide also shows you how to properly keep track of your CPE.
Examples of CDR-accredited CPE activities in Kentucky include:
Practitioner's Role: Safe Opioid Prescribing & Medicine by Southern KY AHEC, 6.0 CPEUs, multiple dates offered
Getting Pumped Up about Human Milk Handling by Sodexo Health Care Services, 1.0 CPEU, offered 11/21/19
Raising Awareness: Current Issues in Lactation 2019 by Western Kentucky Breastfeeding Coalition, 6.0 CPEUs, offered 08/02/19
Lactation on the Levee 2019 with Christy Jo Hendricks by Northern Kentucky Health Department, 6.0 CPEUs, offered 07/31/19
NaSCEND ESSENTIALS Conference by Kendra Schreiner, 7.0 CPEUs, offered 07/26/19
Using Loving Support to Grow and Glow in WIC by Kentucky Department for Public Health, 12.0 CPEUs, multiple dates offered
Lactation Consultant Training Program by Lactation Education Resources, 90.0 CPEUs, multiple dates offered
Job Opportunities for Registered Dietitians in Kentucky
For those who hold Registered Dietitian (RD) and Licensed Dietitian (LD) status in Kentucky, the sky's the limit. Job sites and job opportunities for registered, licensed dietitians in Kentucky are vast. A sampling of recent job postings for registered and licensed dietitians in Kentucky shows that the following are common job sites for Kentucky dietitians:
University of Kentucky, Lexington
Baptist Health System in Lexington
Cigar Factory Complex in Owensboro
Roche Dietitians LLC in Louisville
CHI Saint Joseph Health in Lexington
Trilogy Health Services in Louisville
Healthcare Services Group in Pikeville
Nutrition That Works, LLC in Bowling Green
Encompass Health in Edgewood
Aramark in Lexington
Professional Associations for Dietitians in Kentucky
Many registered and licensed Kentucky dietitians opt to join professional organizations. These organizations can help you with professional, networking and job opportunities. In Kentucky, popular organizations for dietitians and nutritionists include:
Bluegrass Academy of Nutrition and Dietetics
Kentucky Academy of Nutrition and Dietetics
Kentucky Folic Acid partnership
International Lactation Consultant Association
Apply for Nutritionist Certification in Kentucky
If you would also like to practice as a nutritionist in Kentucky, you must meet certain qualifications. They include:
Possession of a bachelor's degree from a regionally accredited college or university
Possession of a master's degree or higher from a Board-approved program in one of the following fields:
Possession of at least 12 graduate semester hours in human nutrition
However, Kentucky has a special statute that says if you are already a Registered Dietitian and Licensed Dietitian in Kentucky, you automatically qualify to apply for nutritionist certification. Simply check the box on the Application for Licensure/Certification if you want to be a Certified Nutritionist (CN) as well as a Registered Dietitian (RD) and Licensed Dietitian (LD).
*2021 US Bureau of Labor Statistics salary figures and job growth projections for dietitians and nutritionists reflect state data not school-specific information. Conditions in your area may vary. Salary statistics representing entry-level/early career = 25th percentile; senior-level/highly experienced = 90th percentile. Data accessed April 2022.