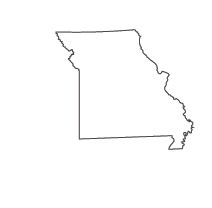 Interest in Healthy eating and the battle against obesity has increased dramatically in the U.S. in recent years. As a result, nutritionist careers are being considered by a growing number of individuals across the nation and Missouri is no exception. The nutrition profession may be the ideal choice for you..
Nutritionist Certification and Licensing in Missouri
Missouri is one of the 35 states with a mandate that nutritional counseling, evaluations and therapy can only be performed by licensed dietitians. Therefore, unlicensed nutritionists are unlikely to receive any government or private insurance reimbursements for personal nutritional counseling. The following requirements must be met if you want to become licensed in Missouri:
At least 21 years of age
Bachelor's degree or higher that incorporates:

Nine semester hours in biological sciences including microbiology, human anatomy and physiology
Six semester hours in chemistry including biochemistry
Six semester hours in behavioral social science courses like psychology, sociology, counseling psychology, educational psychology
Six semester hours in management to include Institutional Management and Food Service Management
25 hours in foods and nutrition, to include Human Nutrition, Advanced Nutrition, Applied Human Nutrition, Clinical Nutrition, Food Science, Nutrition through the Lifecycle, Diet Therapy and Medical Dietetics

900 hours of clinical experience. The way the hours are fulfilled often depends on the school attended. Most include internships as part of their nutrition program; however, you might be required to work 10 months full-time, 14 months part-time, or some other combination to reach 900 hours.
Pass the Registered Dietician examination. You are required to answer at least 125 or the 140 multiple-choice questions within three hours. You can take the exam at a PSI testing center in either Kirksville or St. Louis. The fee is $200. The exam consists of four sections:

Food and Nutrition
Nutritional Care Processes
Counseling and Communication Abilities
Food Service Systems Management
There are approximately eight colleges/universities in Missouri that offer degree programs in nutrition/dietetics. These schools are located in the following cities:
Cape Girardeau
Columbia
Maryville
Point Lookout
Springfield
St. Louis (two schools)
Warrensburg
<!- mfunc feat_school ->
The following bachelors and Master's programs offer career-focused instruction delivered by trained nutritionists with experience in the field. Find out more what each individual course of study offers through the locations below.
Sponsored School(s)
Featured Nutritionist Programs
<!- /mfunc feat_school ->
Nutritionist Job Description and Job Opportunities in Missouri
As a nutritionist you will counsel, evaluate, plan and implement nutrition programs for individuals or groups. You can either work for an employer or open a private practice. You might test foods for their nutritional components, investigate the veracity of food labels, teach nutrition classes, design public/private school lunch menus, do nutritional research or educate the general public about nutritional issues. The list of prospective employers contains almost any food-related institution, facility or company, including:
Hospitals, Medical Clinics, Rehab facilities
Nursing homes, senior centers, independent-living facilities
Resorts, spas, hotels
Schools, school districts
Military bases
Wellness centers
Children's summer camp programs
Adult and child day-care centers
After-school programs
Food manufacturers
Government food safety agencies
Marketing research firms
Kidney dialysis centers
Correctional facilities
Universities, university labs
Food processing companies
Health food stores
Catering companies
Weight –reduction programs
Fitness centers
Major sports teams
Newspapers, magazines (write about nutritional issues)
Nutritionist Salaries and Job Growth in Missouri
According to the Bureau of Labor Statistics, Missouri dietitians and nutritionists earned an average salary of $55,860 as of May 2021. While dietitians and nutritionists in the Columbia metro area earned a similar average salary of $55,230 during this time, those in the Indianapolis metro area earned much more, at $60,490.*
You can find detailed information about the licensing process as well as on-line application forms from the Missouri Division of Professional Registration. There is a $50 application fee. Licenses are renewable every five years with the completion of 75 hours of continuing professional education.
---
Health Coach in Missouri
Spending hours and hours a day in an office chair has become normal for many millions of Americans. Missourians have recognized the danger of such daily immobility, and with the help of health coaches, have created a workplace health initiative for the many private sector and state employees that spend endless hours hunched over a keyboard every day. In response, the Missouri Department of Health and Senior Services is committed to facilitating a "Worksite Challenge" for anybody in the state working in a corporate setting.
The "Worksite Challenge" targets three different categories for behavioral change: physical condition, exercise and fitness, and nutrition. A few of the behavioral changes being suggested include getting a full 7 hours of sleep every night, walking a mile during your lunch hour, and eating breakfast every day. Among many other suggestions for health improvement, these behavioral changes are known to contribute to overall physical health – regardless of how minor the changes may seem, when applied consistently they bring results.
The Worksite Challenge for corporate employees goes so far as to engage the emotional health of the individual as a way to motivate effective behavioral changes. In this way, the initiative is holistic in nature since it covers every factor that contributes to an individual's overall health. With the help of health coaches, the Missouri Department of Health and Senior Services works to combat common health risks by presenting the Worksite Challenge as an alternative solution that can ultimately bring about consistent and positive health habits for both office workers and their families.
The Worksite Challenge is not only effective in getting people to get proactive about their heath, but also serves as a powerful tool for education. It forces individuals to recognize how every aspect of their lives can affect their physical health, teaching them to think beyond just addressing the well-known negative factors like stress and alcohol consumption and tobacco use.
The challenge is often presented as a kind of game or competition within the workplace as coworkers track their progress to see who can lose the most weight or walk the most miles. Health coaches understand the benefits of turning these initiatives into a fun experience. More fun almost always means more results for anyone willing to accept the "Challenge."
Education
As you consider the degree options that will help you get your health coach career off the ground, you will find that you have a lot of freedom when it comes to selecting a major. This flexibility extends to the electives you choose, any internships you participate in and the professional certification you choose to earn. This allows you to build your experience around your personal areas of interest, whether it's exercise science and kinesiology or nutrition and dietetics, or something that is well rounded enough to encompass all these areas.
Different employers will have different requirements regarding the education and/or certification they would expect you to have.  If you do well in the interview process and have relevant life experiences, you can often complete any outstanding certification requirements after being hired.
Program Options
A bachelor's degree in one of these areas is the most common qualification employers look for and is necessary for most health coach career opportunities:
Exercise Physiology
Nursing
Nutrition and Dietetics
Health Education
Counseling
Public Health
Social Work
 
If you already have a bachelor's, then earning a master's degree or graduate certificate in one of these areas would be considered a very strong qualification, and would go beyond the general expectations of most employers.
Professional Certification

The employer you will be working for will often determine the kind of certification you are required to hold. Some may be looking to hire a registered and properly certified dietitian, while others may look for more general health coaching certification. In any case, certification will serve as a field-specific credential denoting your specialized training and experience.
General health coach certification available through either the American Council on Exercise (ACE) or the International Coach Federation (ICF) provides you with credentials that show you are an authority in the field of health coaching.
American Council on Exercise (ACE) – ACE certification is accredited by the National Commission for Certifying Agencies (NCCA) and provides "standard" or "premium" self-study packages to prepare for the examination that leads to the Health Coach Certification. Certification through ACE must be renewed every 2 years by completing continuing education approved by ACE. The ACE Certification Candidate Handbook provides thorough details concerning the certification examination and maintenance process.
Health Coaching in Missouri: Career Paths and Job Opportunities
Health coaching jobs vary considerably when it comes to meeting basic employer requirements. The benefit to this variety is that you are able to find a position that best fits your academic background and coaching experience. In some cases, you can begin an entry-level job with fewer requirements then pursue higher education and personal development after being hired. If you are seen as a strong candidate that will bring a lot of enthusiasm and experience to the organization, it is not uncommon for employers to allow you to earn the certification or licensing the position requires after you are hired.
The following job vacancy announcements represent the types of employment opportunities available to properly credentialed health coaches in Missouri. These job vacancy announcements are shown for illustrative purposes only and are not meant to represent job offers or provide an assurance of employment.
Healthy Living Director for the YMCA of Greater Kansas City – Kansas City, MO
You will be responsible for customer retention and premiere membership services, as well as budgeting, planning, and promoting and implementing health programs. You will be responsible for membership and financial development in order to ensure growth of the YMCA of Greater Kansas City.
Requirements:
At least two years of experience in this field or a related field
At least a four year degree in health or a related field
Current CPR (adult and child), Oxygen, AED, and first aid certification
YMCA foundations of strength and conditioning and/or YMCA group fitness instructor
AFAA or ACE group exercise instructor certification and/or personal training certification accredited through the National Commission for Certifying Agencies
At least two years of experience as a supervisor
Telephonic Wellness Health Coach for UnitedHealth Group – Maryland Heights, MO
You will correspond with clients by phone and assist them with setting and meeting their health and wellness goals.
Requirements:
Bachelor's degree required; preferably in health education, nursing, nutrition, exercise physiology or a closely related field
At least 2 years of experience required in direct coaching and/or education for behavioral change, health promotion, or disease prevention
Certified by a nationally recognized coaching program or complete certification within a year of being hired
Must have a basic knowledge of disease prevention, and nutrition, weight loss, and exercise principles
Personal Trainer for Wellbridge Athletic Club & Spa – St. Louis area, MO
You will provide individual or group coaching and training for people seeking to set and meet fitness and wellness goals.
Requirements:
Must have an NCCA personal trainer certification including NSCA, NASM, ACE, ACSM
Current CPR and First Aid certification
6 months of personal training experience preferred
Bachelor's degree in exercise physiology or a closely related field preferred
Local Resources and Health Departments
Missouri Department of Health and Senior Services
Missouri Association of Rural Health Clinics
Missouri Dietetic Association
Missouri Foundation for Health
Missouri Public Health Association
United Way of Greater St. Louis
*2021 US Bureau of Labor Statistics salary figures and job growth projections for dietitians and nutritionists reflect state data not school-specific information. Conditions in your area may vary. Data accessed April 2022.