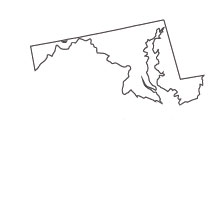 The Maryland State Board of Dietetic Practice, which was created in 1985 to operate under the Maryland Dieticians and Licensed Nutritionists Act, is responsible for protecting the public by setting standards for the practice of dietetics in Maryland. The Board recognizes and licenses both nutritionists and dieticians.
As of April 2022, the Commission on Dietetic Registration reported a total of 1,945 Registered Dietitians (RDs) and Registered Dietitian Nutritionists (RDNs) in Maryland.
As of May 2021, the Bureau of Labor Statistics reported that nutritionists and dietitians in Maryland earned an average salary of $71,270.*
Applying to Become a Licensed Nutritionist in Maryland
To apply to become a licensed nutritionist in Maryland, candidates must complete the Maryland Department of Health of Dietetic Practice Application for Licensure in its entirety and have it notarized.
They must also provide the Board with an official transcript from the accredited college or university where they obtained their nutrition education. It must be mailed directly to the Board from the registrar of the university/college.
Applicants must also submit a fee of $75 (made payable to the Board of Dietetic Practice), which covers the cost of the Certification Nutrition Specialists Examination (CNS) examination fee.
The completed application and all related documentation must be sent to:
Maryland State Board of Dietetic Practice
4201 Patterson Avenue, Room 312
Baltimore, Maryland 21215
Passing the Examination for Licensure
Only those candidates for nutritionist licenses in Maryland who have met the supervised experience and educational requirements and have completed an application for licensure may qualify to take the Certification Nutrition Specialists Examination (CNS) of the Certification Board for Nutrition Specialists (CBNS).
After submitting the results of the examination to the Board, applicants must wait for the Board to notify them of their eligibility for a license. Applicants are then required to pay the licensing fee of $225.
Academic and Experience Requirement for Licensure as a Nutritionist in Maryland
<!- mfunc feat_school ->
The following bachelors and Master's programs offer career-focused instruction delivered by trained nutritionists with experience in the field. Find out more what each individual course of study offers through the locations below.
Sponsored School(s)
Featured Nutritionist Programs
<!- /mfunc feat_school ->
Candidates for licensure as a nutritionist in Maryland must be at least 18 years old and must possess a master's or doctoral degree from an accredited college or university in nutrition sciences, with an emphasis in one of the following:
Food and nutrition
Dietetics
Community nutrition
Public health nutrition
All regionally accredited masters and doctoral programs in nutrition include the following course components:
At least 6 credit hours in biochemistry
At least 3 credit hours in physiology or anatomy/physiology
At least 12 credit hours in nutrition science
Individuals may also qualify for licensure as a nutritionist if they possess equivalent academic training in an area such as food science or nutrition education.
Upon completion of the necessary educational requirements for licensure as a nutritionist in Maryland, applicants must complete a course of pre-planned professional experience that results in 900 hours of supervised experience in nutritionist practice.
Maintaining a Maryland Nutritionist License
All licensed nutritionists in Maryland must keep their Maryland nutritionist license current by completing at least 30 hours of continuing education related to nutrition. The CEU's approved by the Board include (but are not limited to):
The Certification Board for Nutrition Specialists
The American College of Nutrition
American Society for Nutrition
The Accreditation Council for Continuing Medical Education
The Accreditation Council for Pharmaceutical Education
American Osteopathic Association
The Red Cross
United States Department of Agriculture, including, but not limited to, Agricultural Research Services
National Institutes of Health
Food and Drug Administration
Accredited colleges and universities
Licensed nutritionists in Maryland are able to complete their renewal online. Those individuals eligible for renewal will receive an instruction letter from the Board regarding the renewal process. To complete the renewal process, nutritionists will need the following:
Maryland Board of Dietetics practice license number
Social Security number
Continuing education records
Visa or MasterCard for the renewal payment
Salary Statistics for Maryland Nutritionists
As of May 2013, the Bureau of Labor Statistics reported that Maryland ranked as the fourth top-paying state in the nation for licensed nutritionists. Maryland nutritionists during this time earned an annual mean salary of $64,120, behind only nutritionists in California, Nevada, and Hawaii.
Dietitians and nutritionists in the metropolitan area of Washington-Arlington-Alexandria, DC-VA-MD-WV earned an average salary of $75,780 as of May 2021.*
Professional Associations for Maryland Nutritionists
One of the best ways to stay current on the latest happenings in the field of nutrition is through membership and involvement in state professional associations/organizations, such as:
Maryland School Nutrition Association
Maryland Academy of Nutrition and Dietetics
---
Interested in Becoming a Health Coach in Maryland?
According to America's Health Rankings, published by the United Health Foundation, Maryland has a lower prevalence of smoking than that of many other states. It also houses more primary care physicians per capita than are found in other states.
However, Maryland as a whole, and Baltimore in particular, are no strangers to public health challenges. The state's current health crisis tells the story of a phenomenon all too common in the US: there is a large disparity in health status based upon income and education level.
Maryland also ranks high among other states in the number of cases of asthma among high school students and in the number of AIDS cases in children age 13 and under. These are two areas in which the education and health promotion efforts of health coaches have the potential to help change behaviors, especially in urban areas.
In the recently released 2016 County Health Rankings (compiled by the Robert Wood Johnson Foundation and the University of Wisconsin Population Health Institute), Baltimore County ranked dead last on the list of healthiest counties in Maryland. Premature death rates – meaning deaths that could have been avoided if people had better access to health resources – are higher in Baltimore than elsewhere in Maryland.
Health coaches to the rescue … In Maryland, health coaches not only work for big name hospitals and corporate employers, they're also critical to the work public health agencies are doing to help promote weight loss, healthier lifestyles, and smoking cessation, while also helping to reduce drug dependence and premature death.
Maryland Degrees and Professional Certification to Become a Health Coach
Though "health coaching" itself is an unregulated profession without any licensing requirements, if your work involves designing nutrition plans for patients in a hospital or for other clients, you will need to become a Registered Dietitian. This will involve becoming registered with the Academy of Nutrition and Dietetics Commission and licensed through the Maryland State Board of Dietetic Practice. Some hospitals that employ health coaches may look for candidates with RN licensure. However, in most cases, health coaching positions in Maryland do not require these kinds of licenses.
In the absence of licensing requirements, becoming a health coach is all about getting the education and training that meets the requirements of specific employers. While some employers will accept candidates who possess an associate degree or certificate, most require a bachelor's degree in a relevant field.
Degree Options
Examples of associate's degree and certificate program majors that are beneficial to health coaches seeking entry-level positions include:
Certificate in Integrative Wellness
Associate of Applied Science in Health and Wellness
Nutrition Certificate
Holistic Nutrition Certificate
Examples of bachelor's degree majors that are relevant to a career in health coaching are:
Health Education and Promotion
Health and Wellness Coaching
Public Health
Sports and Health Sciences
Nutrition and Dietetics
Exercise Science and Kinesiology
Master's degrees or graduate certificates are perfect if you wish to further your health coaching career, or if you already possess a bachelor's degree in another field:
Master of Science in Nutrition and Integrative Health
Master of Arts in Health Coaching with Concentration in Nutrition
Post-Baccalaureate Certificate in Health & Wellness Coaching
Master of Science in Exercise Science and Health Promotion
Professional Certification and Registration
As you search for health coaching jobs available in Maryland, you might notice that some of them call for a particular type of certification. Some of the most popular health coach certification options include:
National Commission for Health Education Credentialing, Inc. (NCHEC)– This organization offers credentialing as a Certified Health Education Specialist (CHES) and Master Certified Health Education Specialist (MCHES). You must pass an examination and meet experience requirements in order to obtain these credentials.
International Coach Federation (ICF)- This organization offers the credentials Associate Certified Coach (ACC), Professional Certified Coach (PCC) and Master Certified Coach (MCC). Each level requires passing an oral examination and participating in mock coaching situations. The differences in standards and expectations for each level may be found here.
American Council on Exercise (ACE) – ACE certification is accredited by the National Commission for Certifying Agencies (NCCA) and provides "standard" or "premium" self-study packages to prepare for the examination that leads to the Health Coach Certification.
Maryland Health Coach Career Paths and Job Opportunities
Jobs for health coaches in Maryland are available at all levels, from entry-level to advanced, all across the state.
The following job vacancy announcements represent the types of employment opportunities available to properly credentialed health coaches in Maryland. These job vacancy announcements are shown for illustrative purposes only and are not meant to represent job offers or provide an assurance of employment.
Health Educator for Johns Hopkins Medicine – Baltimore, MD
You will help to develop, implement and evaluate health education programs and locate health education resources. You will network with community groups and focus on relevant health topics, as well as administer classes throughout Maryland.
Requirements:
Bachelor's degree in health promotion, health education, nursing or another health-related field
Certified Health Education Specialist preferred
Health or Wellness Coach certification preferred
Two years of experience in health education or promotion
Community Health Worker at CareLink- Gaithersburg, MD
You will assist clients in follow-up medical care post hospital discharge, accompanying them to medical appointments and checking in on them in the community. You will also act as the hospital liaison between providers.
Requirements:
Bachelor's degree in community health, health education or promotion preferred
Fluency in Spanish preferred
Pass a background check
Program Director of Health and Wellness Coaching Programs at Maryland University of Integrative Health- Laurel, MD
You will manage and administer the school's master's degree and graduate certificate Health and Wellness Coaching programs. You will also participate in recruiting students into the program.
Requirements:
Master's degree in health coaching or related field
Five or more years of administrative experience preferred
Three or more years of instructional experience preferred
ICF Coaching Certification preferred (ACC, PCC, MCC)
Health Coach at Serenity Zone Medical Spa – Olney, MD
You will work with clients and employees of the medical spa to inspire healthier habits. You will develop a coaching relationship with clients and assist them in working towards their goals.
Requirements:
Bachelor's degree in health education, health promotion, athletic training, nutrition, nursing or another health related field
One year of health coaching experience
State and Local Health Resources and Departments in Maryland

Cecil County Health Department
Harford County Health Department
Baltimore County Health Department
Baltimore City Health Department
Maryland Association of County Health Officers
Maryland Occupational Safety and Health
Maryland Public Health Association
*2021 US Bureau of Labor Statistics salary figures and job growth projections for dietitians and nutritionists reflect state data not school-specific information. Conditions in your area may vary. Data accessed April 2022.