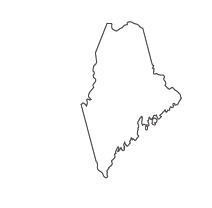 Maine is famous for its wild blueberries and a July 31, 2014 article in the Bangor News reported that University of Maine nutrition professor Dorothy Klinis has found that wild blueberries significantly reduce triglycerides in the body which in turn decreases the chances of heart disease. This is just one example of nutritionists at work in Maine.
The Maine Board of Licensing and Dietetic Practice is the governing body for dieticians and nutritionists in Maine where the terms "dietitian" and "nutritionist" are used almost interchangeably.
Nutritionist Certification and Licensing in Maine
Maine is one of the 35 states that require nutritionist to be licensed. The four types of Board-issued licenses a nutritionist can qualify for are:
Dietitian License
Temporary Dietician License
Dietetic Technician
Temporary Dietetic Technician
The requirements for earning a license to practice nutrition (dietetic license) are:
Bachelor's or higher degree from an accredited college/university
Major in Human Nutrition, Dietetics or Food System Management
900 hours of clinical nutrition experience
Adhere to a code of ethics
Pass exam administered by the Commission on Dietetic Registration
The requirements for earning a dietetic technician license in Maine are:
Associate's degree from an accredited college
A concentration on human nutrition or dietetics
Pass dietetic technician exam
Temporary licenses can be issued to persons who meet all qualifications but have not yet taken the exam. Non-renewable temporary licenses are valid for one year.
There is one on-campus school in Maine that offers a degree in nutrition/dietetics. There are also approximately six fully accredited online schools from which you can obtain your degree. Online schools provide the convenience of being able to take courses in your own home at any time of the day or night. Courses you might take for a degree in nutrition include:
Chemistry, Biology, Biochemistry
Food Science
Statistics
Introductory and Advanced Nutrition
Principles of Food Preparation
Food and Beverage Purchasing
Food Service Sanitation
Medical Nutritional Therapy
Nutrition Counseling
Medical Terminology
Ethical Dilemmas
Human Metabolism and Nutrition
<!- mfunc feat_school ->
The following bachelors and Master's programs offer career-focused instruction delivered by trained nutritionists with experience in the field. Find out more what each individual course of study offers through the locations below.
Sponsored School(s)
Featured Nutritionist Programs
<!- /mfunc feat_school ->
Nutritionist Job Description and Job Opportunities in Maine
Licensed nutritionists fill a wide variety of job functions, including:
Providing nutritional counseling to patients or clients
Preparing diet plans for individuals
Performing nutritional assessments
Supervising food production
Analyzing nutritional contents of prepared and other foods
Designing nutritional content labels
Teaching nutrition to high school or college students
Giving public presentations on nutrition
Designing food programs for diabetes and other special needs patients
The job of a licensed dietetic technician might include:
Assisting licensed nutritionists/dieticians in any setting
Providing general nutritional counseling
Helping to prepare nutritional publications
Employers of licensed nutritionists and technicians include:
Hospitals, medical clinics, rehab facilities
Child and adult day-care centers
Charitable food programs
Nutrition/food-oriented government agencies
Spas, resorts, hotels
Fitness centers
Public school districts / private schools
Independent-and assisted-living facilities for seniors
Food manufacturers
Health food stores
Colleges / universities
Research labs
Nutritionist Salaries and Job Growth in Maine
According to the Bureau of Labor Statistics, Maine nutritionists and dietitians earned an average salary of $67,620 as of May 2021. In the ten-year period leading up to 2028, the number of jobs for nutritionists and dietitians in the state is projected to increase by 4%.*
Nutritionist Organization or Associations in Maine
Maine Academy of Nutrition and Dietetics (MAND )– an affiliate of the national Academy of Nutrition and Dietetics, the largest organization of food and nutrition professionals in the country.
---
Maine Health Coaching Information
Recently, the Maine Chapter of the March of Dimes awarded Portland's Family Health Program a $10,000 grant to fund education aimed at reducing the use of tobacco. Researchers found that in Portland, people in households with a total income of between $15,000 and $24,999 per year are three times more likely to smoke compared to those in households with higher average incomes. This program specifically targets this at-risk population through in-home visits. The nurses and health coaches that are involved in these outreach programs are paying particular attention to households with expectant mothers.
In June 2016, Portland raised the age requirement for purchasing tobacco from 18 to 21 as a way to deter young people from smoking, but much more needs to be done to address the causal issues behind why young people choose to use tobacco. The understanding is that exposure is perhaps the single biggest contributing factor. Young people from households with parents that smoke are more likely to become smokers themselves.
According to health coaches working for Partnership for a Tobacco-Free Maine, smoking kills more people in the state than AIDS, alcohol, car accidents, suicides, murders and illegal drugs combined. Heartbreakingly, it is estimated that 2,200 Maine residents die every year from this nasty habit.
Additionally, 16 percent of Maine high schoolers, and seven percent of its middle schoolers, smoke. And the problem only gets worse after high school, with estimates showing that twenty-six percent of young adults in the state aged 18-24 also smoke. Studies have found that youngsters who use smokeless e-cigarettes and smokeless tobacco products are more likely to become cigarette smokers in young adulthood.
With statistics like these, it's clear that Maine's health coaches have their work cut out for them, working to address these kinds of systemic issues through education that helps support tobacco use cessation, weight management, and fitness.
Many health coaches are found working in Maine's outpatient clinics, while others work for insurance companies, assessing health risks and helping clients adopt healthier habits. Still others work for corporations that have discovered that healthier employees are more productive employees.
Earning a Relevant Degree and Professional Certification to Become a Health Coach
There's no need to become licensed, certified or registered to work as a health coach specifically, since "health coaching" itself is an unregulated profession without licensing requirements.
However, if your work involves developing nutrition plans for patients in a hospital or for other clients, you will need to qualify to become a Registered Dietitian. This will involve being listed on the national registry through the Academy of Nutrition and Dietetics Commission on Dietetic Registration, as well as state-licensed through the Maine Board of Licensing of Dietetic Practice. Some hospitals that employ health coaches may look for candidates that are registered nurses.
Whether your career goals involve becoming a registered dietician or not, a bachelor's degree is usually considered to be the standard for most health coaching positions. Since there are no specific licensing requirements to become a health coach, you are free to choose from a wide array of majors. This allows you to focus your education on a specific area of interest, whether exercise science and kinesiology or nutrition and dietetics.
Degree Options
Associate's degrees and certificates that may help you to land an entry-level health coaching job include:
Wellness Coaching Certificate
Dietetic Technology
Associate of Applied Science- Health and wellness
Bachelor's degrees that many employers of health coaches accept include:
Occupational Therapy
Holistic Nutrition
Human Nutrition
Health Science
Exercise Science
Sports Nutrition
Kinesiology
If you possess a bachelor's degree in another field but would like to change careers and become a health coach, consider a master's degree or graduate certificate:
Master of Arts in Integrative Health and Wellbeing Coaching
Master of Science in Health & Wellness
Graduate Certificate in Integrative Health Studies
Graduate Certificate in Health Coaching
Professional Certification and Registration
Some health coaching positions require that you be a registered nurse, registered dietitian or hold another license. The majority, however, simply require a bachelor's degree.
It is common for employers to expect job candidates to hold some form of voluntary professional certification. Some popular options include:
American Council on Exercise (ACE) – ACE certification is accredited by the National Commission for Certifying Agencies (NCCA) and provides "standard" or "premium" self-study packages to prepare for the examination that leads to the Health Coach Certification.
International Coach Federation (ICF) – The ICF is known as one of the leading certification organizations for health coaching. The organization provides a variety of credentials for health coaches that include: Associated Certified Coach (ACC), Professional Certified Coach (PCC), and Master Certified Coach (MCC).
National Wellness Institute: This organization hosts the annual National Wellness Conference, recognized by health coach professionals as the leading professional conference in health and wellness. They offer the credential Certified Wellness Practitioner (CWP), which requires a bachelor's degree and five years of experience. You must re-certify every five years to maintain your credential.
Catalyst Coaching Institute: This organization offers certifications resulting in the credentials Certified Health Coach (CHC) and Certified Wellness Coach (CWC). Certification requires attendance at seven wellness webinars, practice coaching sessions in real-life, telephonic coaching practicum and an online comprehensive final exam. A Master Certified Wellness Coach program is offered in conjunction with the National Consortium for Credentialing Health and Wellness Coaches.
Career Paths and Job Opportunities For Health Coaches in Maine
The following job vacancy announcements represent the types of employment opportunities available to properly credentialed health coaches in Maine. These job vacancy announcements are shown for illustrative purposes only and are not meant to represent job offers or provide an assurance of employment.
Health Coach for Bath Iron Works TrestleTree – Bath, ME
You will help clients to improve their health behaviors in a one-on-one setting. You will focus on disease management, tobacco cessation, weight management, stress management, improved nutrition and exercise.
Requirements:
Must possess one of the following Maine state licensures/registrations:
Registered Nurse (RN)
Registered Dietitian (RD)
Certified Diabetes Educator (CDE)
Health Coach at Central Maine Medical Center- Lewiston, ME
You will work with contracted employers to provide health and wellness services to employees. Tasks will include health risk assessments, biometric screenings, and one-on-one coaching sessions. You will also help to coordinate wellness fairs and education sessions with the employer.
Requirements:
Bachelor's degree in community health, physical education, health education, exercise science or a related field
Two years of experience
Current American Heart Association Healthcare Provider BLS Certification
Tobacco Treatment Educator-Health Educator for MaineHealth Corporate – Portland, ME
You will help to development, implement and coordinate outreach activities throughout the state of Maine. You will also train other healthcare professionals in working in community healthcare.
Master's degree in healthcare, behavioral health, counseling or related field
Clinical license in counseling or tobacco treatment
Experience in public speaking and education programs
RN Patient Educator/Care Coordinator for Eastport Health Care, Inc. – Eastport, ME
You will coordinate client care, health care mentoring and health care education. You will provide direct nursing licensed support to clients.
Current RN license in state of Maine
Training in self-management, i.e., health coaching or motivational interviewing
State and Local Health Resources for Health Coaches in Maine
State of Maine Department of Health and Human Services
Portland Maine Health & Human Services Department
Maine Center for Disease Control & Prevention
Maine Public Health Association
Maine Behavioral Health Organization
Maine Counseling Association
New England Chapter of the American College of Sports Medicine
Maine Nutrition Council
*2021 US Bureau of Labor Statistics salary figures for dietitians and nutritionists. Job growth projections from the US Department of Labor-sponsored resource, Projections Central. Figures are based on state data, not school-specific information. Conditions in your area may vary. Data accessed April 2022.