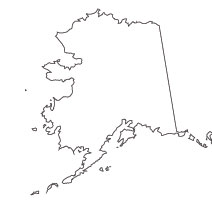 The State of Alaska recognizes dietetics and nutrition practice as the integration and application of scientific principles of food, food management, nutrition, and biochemistry as to achieve and maintain human health. Only licensed individuals in Alaska are permitted to use the term "nutritionist" or "licensed nutritionist."
Legislation for Alaska's nutritionists was created by the Regulation of Dieticians and Nutritionists and was passed by the State legislature and approved by the Governor. Alaska's Division of Corporation and Professional Licensing oversees the nutritionist licensing program.
To become a licensed nutritionist in Alaska, you must complete a number of steps:
Meet Minimum Requirements for Nutritionist Licensure in Alaska
You may qualify for a nutritionist license in Alaska through one of two ways:
Complete a master's or doctoral degree from an accredited college or university with a major in one of the following:

Human nutrition
Public health nutrition
Clinical nutrition
Nutrition education
Community nutrition
Food and nutrition; AND
Complete a documented work experience in human nutrition or human nutrition research that is at least 900 hours in length;
OR
Qualify as a diplomate of the American Board of Nutrition or as a Certified Nutrition Specialist (CNS) with the Certification Board for Nutrition Specialists
To earn the CNS credential, you must meet four, specific requirements, which include:
Possess a Master of Science or Doctoral degree in the field of nutrition from an accredited college or university or a Doctoral degree in a field of clinical healthcare (MD, DO, DC, Doctor of Nursing, DDS, etc.) from a regionally accredited institution; AND
Complete the following coursework:

At least 9 semester credit hours of nutrition in courses such as: therapeutic nutrition, dietary supplements, pharmacology, nutrition assessment, etc.
At least 6 semester credit hours in biochemistry
At least 3 semester credit hours in physiology or anatomy/physiology
At least 12 semester credit hours in clinical or life sciences (biology, chemistry, organic chemistry, botany, micro-biology, etc.); AND

At least 1,000 hours of supervised practice experience in nutrition, which must include:

At least 200 hours in nutrition assessment
At least 200 hours in nutrition intervention, counseling, education or management; AND

Pass the CBNS Certifying Examination
To earn the Diplomate credential through the American Clinical Board of Nutrition, you must meet the following requirements:
Possess a professional degree from an accredited institution
Earn a minimum of 300 hours of nutrition education beyond the professional degree
Possess at least two years of practice experience
Write an article or paper on nutrition that could be published
Take and pass the ABCN examination
<!- mfunc feat_school ->
The following bachelors and Master's programs offer career-focused instruction delivered by trained nutritionists with experience in the field. Find out more what each individual course of study offers through the locations below.
Sponsored School(s)
Featured Nutritionist Programs
<!- /mfunc feat_school ->
Apply for Nutritionist Licensure
Upon completion of the minimum requirements to become a licensed nutritionist in Alaska, you must complete the Application for Nutritionist License and send it, along with a nonrefundable application fee of $50 and a license fee of $50 (made payable to the State of Alaska), and either official verification of your CBNS or ABN certification or your official transcripts and verification of documented work experience to:
Nutritionist Licensing
P.O. Box 110806
Juneau, Alaska 99811
All applications must include a recent photograph (taken within the last 6 months), and they must be notarized.
Keep your Nutritionist License Current
All nutritionist licenses in Alaska expire on December 31 of every odd-numbered year. To apply for renewal, you must complete the Biennial Nutritionist License Renewal form and pay the renewal fee of $100 ($50 for the application fee and $50 for the nutritionist license renewal fee).
---
Alaska Health Coaching Information
Classroom Feud
"Classroom Feud" is a 30-second public service announcement video presented by Lake Otis Elementary School in Anchorage, Alaska that puts a clever twist on the game show "Family Feud" and challenges classmates to drink water as an alternative to surgary drinks.
Play Every Day Campaign – Acknowledges the Problem of Obesity in Alaska
The Classroom Feud creative video received first place in the Play Every Day Campaign video contest that took place in 2015 between several other elementary schools in the state. The Play Every Day Campaign sponsored by Alaska's Department of Health and Social Services hosted the competition and provided prizes to the school that produced the most impressive video. This unique event was only one of many contributions the Play Every Day Campaign makes to the state of Alaska. 
The Play Every Day Campaign thoroughly acknowledges the problem of obesity in the state of Alaska, pointing out that two of every three adults are obese and one of every three children meet the criteria. The campaign focuses on a slightly different aspect of obesity by not only addressing the illnesses and issues that can come with it, but also the financial strain that obesity places on the state's resources. According to the campaign, medical expenses for issues related to obesity cost the state $459 million a year. This reference to expenses illustrates that the problem of obesity is far more significant than some may realize.
Play Every Day combats these issues by challenging families to "Get out and play, every day" for at least sixty minutes a day. The campaign provides diverse and creative ideas for physical activities that cater to the constantly varying weather conditions of the state as well as providing consistent blog posts announcing events in communities all over Alaska, including summer runs and the Alaska Ninja Warrior.
In terms of nutrition, Play Every Day is most concerned with emphasizing the importance of water over less healthy drink options. However, beyond the issue with sugary drinks, another program in the small community of Hoonah encourages families to incorporate more freshly caught salmon and home-grown vegetables into their diets. Hoonah builds its remedies for obesity according to the Community Preventive Services' Community Guide and includes various physical activities for everyone in addition to recommendations for healthier eating habits.
Becoming a Health Coach: Earning a Relevant Education
Health coaching is still considered a new field, so many of the academic and certification programs are in the midst of development. Considering there is not a specific degree dedicated to health coaching, you have a certain level of freedom with selecting your degree, internships, and certification. Several suitable degrees and a standard certification for employment are listed below.
 
Degree Options

Associate's degrees in areas like those shown here are suitable for some entry-level health coach jobs:
Applied Science in Health and Wellness
Psychology
Applied Nutrition
Nutrition
Business Administration
A bachelor's degree in one of these areas is the most common qualification employers look for and is necessary for most health coach career opportunities:
Health and Wellness
Nutrition
Healthcare Management
Health Services Administration
Healthy Lifestyle Management
Health Science
Behavioral Health Science
A master's degree in one of these areas would be considered a very strong qualification, and would go beyond the general expectations of most employers:
Health Systems Management
Healthcare Administration
Nutrition
Nursing 
Psychology 
Professional Certification

Certification is a necessity for health coaching as it contributes to your hands-on experience and training. Your certification serves as a field-specific credential denoting experience and expertise that compliments the academic training in receive when earning a degree. Although the certifications that employers look for will vary from one position to another, certification is often required because these credentials illustrate authority within the specialized scope of practice for health coaching.
American Council on Exercise (ACE) – ACE certification is accredited by the National Commission for Certifying Agencies (NCCA) and provides "standard" or "premium" self-study packages to prepare for the examination that leads to the Health Coach Certification. Certification through ACE must be renewed every 2 years by completing continuing education approved by ACE. The ACE Certification Candidate Handbook provides thorough details concerning the certification examination and maintenance process.
Health Coaching in Alaska: Career Paths and Job Opportunities
Considering health improvement is a high priority for the state of Alaska, there are no shortage of opportunities for involvement in the field of health and nutrition.
The following job vacancy announcements represent the types of employment opportunities available to properly credentialed health coaches in Alaska. These job vacancy announcements are shown for illustrative purposes only and are not meant to represent job offers or provide an assurance of employment.
Health Educator for Southeast Alaska Regional Health Consortium (SEARHC) – Kake, AK
You will serve as a member of the SEARHC Health Promotion team providing health education resources and strategies to individuals and small groups.
Requirements:
Bachelor's Degree in Health Education, Health Promotion, Public Health, School Health, Health Sciences, or another related field at an accredited school
OR
4 years of health promotion or related experience (paid or volunteer)
1 year of health promotion or related experience (paid or volunteer), relevant education (beyond the minimum required)
Health Educator for Southcentral Foundation – Anchorage, AK
You will conduct, coordinate and develop the health education program for the customer-owner as well as evaluating and assessing the results for the customer-owner.
Requirements:
Bachelor's Degree in Health Education, Nursing, Public Health, Allied Health, or related field or an equivalent combination of work experience and academic training.
Tobacco Treatment Specialist Certification from an accredited Tobacco Treatment Education program (or receive certification within 6 months of employment)
Certification as a facilitator for chronic disease self-management program (evidence-based)
Basic Life Support (BLS) Certification
Registered Dietitian for Providence Health and Services – Seward, AK
You will evaluate medical nutrition care for patients based upon age, diagnosis, medications, lab results, anthropometric measures, etc. You will also develop nutritional strategies and assessments for patient and physician use. 
Requirements:
Bachelor's Degree in Nutrition and Food or related field
Completion of a dietetic internship program
Fulfilling the requirements for continued education according to the American Dietetic Association for registered status
Certification through the Commission on Dietetic Registration for the American Dietetic Association
Local Resources and Alaska Health Departments
National Alliance for Nutrition and Activity
Alaska Department of Health and Social Services
Alaska Native Tribal Health Consortium
Alaska Seafood Marketing Institute
Alaska Food Coalition
Alaska Dietetic Association
Alaska School Nutrition Association (AKSNA)
Play Every Day Campaign